Description
<h3><span style="background-color: inherit;"><span style="color: rgb(0, 0, 255);"><font style="font-family:Arial" size="4″><b><span style="font-family: &quot;Helvetica Neue&quot;, Helvetica, &quot;PingFang SC&quot;, Tahoma, Arial, sans-serif; font-size: 14px; font-style: normal; font-variant-ligatures: normal; font-variant-caps: normal; letter-spacing: normal; text-align: start; text-indent: 0px; text-transform: none; white-space: normal; word-spacing: 0px; -webkit-text-stroke-width: 0px; text-decoration-style: initial; text-decoration-color: initial; display: inline !important; float: none;">Features:</span></b></font></span></span></h3><font style="font-family:Arial" size="4″><span style="color: rgb(0, 0, 0); font-family: &quot;Helvetica Neue&quot;, Helvetica, &quot;PingFang SC&quot;, Tahoma, Arial, sans-serif; font-size: 14px; font-style: normal; font-variant-ligatures: normal; font-variant-caps: normal; font-weight: 400; letter-spacing: normal; orphans: 2; text-align: start; text-indent: 0px; text-transform: none; white-space: normal; widows: 2; word-spacing: 0px; -webkit-text-stroke-width: 0px; background-color: rgba(249, 250, 253, 0.89); text-decoration-style: initial; text-decoration-color: initial; display: inline !important; float: none;">1.With&nbsp;foldable&nbsp;arms,&nbsp;small&nbsp;size,&nbsp;easy&nbsp;to&nbsp;carry.</span><br style="color: rgb(0, 0, 0); font-family: &quot;Helvetica Neue&quot;, Helvetica, &quot;PingFang SC&quot;, Tahoma, Arial, sans-serif; font-size: 14px; font-style: normal; font-variant-ligatures: normal; font-variant-caps: normal; font-weight: 400; letter-spacing: normal; orphans: 2; text-align: start; text-indent: 0px; text-transform: none; white-space: normal; widows: 2; word-spacing: 0px; -webkit-text-stroke-width: 0px; background-color: rgba(249, 250, 253, 0.89); text-decoration-style: initial; text-decoration-color: initial;"><span style="color: rgb(0, 0, 0); font-family: &quot;Helvetica Neue&quot;, Helvetica, &quot;PingFang SC&quot;, Tahoma, Arial, sans-serif; font-size: 14px; font-style: normal; font-variant-ligatures: normal; font-variant-caps: normal; font-weight: 400; letter-spacing: normal; orphans: 2; text-align: start; text-indent: 0px; text-transform: none; white-space: normal; widows: 2; word-spacing: 0px; -webkit-text-stroke-width: 0px; background-color: rgba(249, 250, 253, 0.89); text-decoration-style: initial; text-decoration-color: initial; display: inline !important; float: none;">2.With&nbsp;altitude&nbsp;hold&nbsp;mode&nbsp;function&nbsp;provides&nbsp;stable&nbsp;flight.</span><br style="color: rgb(0, 0, 0); font-family: &quot;Helvetica Neue&quot;, Helvetica, &quot;PingFang SC&quot;, Tahoma, Arial, sans-serif; font-size: 14px; font-style: normal; font-variant-ligatures: normal; font-variant-caps: normal; font-weight: 400; letter-spacing: normal; orphans: 2; text-align: start; text-indent: 0px; text-transform: none; white-space: normal; widows: 2; word-spacing: 0px; -webkit-text-stroke-width: 0px; background-color: rgba(249, 250, 253, 0.89); text-decoration-style: initial; text-decoration-color: initial;"><span style="color: rgb(0, 0, 0); font-family: &quot;Helvetica Neue&quot;, Helvetica, &quot;PingFang SC&quot;, Tahoma, Arial, sans-serif; font-size: 14px; font-style: normal; font-variant-ligatures: normal; font-variant-caps: normal; font-weight: 400; letter-spacing: normal; orphans: 2; text-align: start; text-indent: 0px; text-transform: none; white-space: normal; widows: 2; word-spacing: 0px; -webkit-text-stroke-width: 0px; background-color: rgba(249, 250, 253, 0.89); text-decoration-style: initial; text-decoration-color: initial; display: inline !important; float: none;">3.With&nbsp;wifi&nbsp;function&nbsp;can&nbsp;be&nbsp;connected&nbsp;APP,&nbsp;APK&nbsp;system&nbsp;to&nbsp;take&nbsp;pictures,&nbsp;video,&nbsp;real-time&nbsp;transmission&nbsp;through&nbsp;the&nbsp;phone&nbsp;camera&nbsp;image.</span><br style="color: rgb(0, 0, 0); font-family: &quot;Helvetica Neue&quot;, Helvetica, &quot;PingFang SC&quot;, Tahoma, Arial, sans-serif; font-size: 14px; font-style: normal; font-variant-ligatures: normal; font-variant-caps: normal; font-weight: 400; letter-spacing: normal; orphans: 2; text-align: start; text-indent: 0px; text-transform: none; white-space: normal; widows: 2; word-spacing: 0px; -webkit-text-stroke-width: 0px; background-color: rgba(249, 250, 253, 0.89); text-decoration-style: initial; text-decoration-color: initial;"><span style="color: rgb(0, 0, 0); font-family: &quot;Helvetica Neue&quot;, Helvetica, &quot;PingFang SC&quot;, Tahoma, Arial, sans-serif; font-size: 14px; font-style: normal; font-variant-ligatures: normal; font-variant-caps: normal; font-weight: 400; letter-spacing: normal; orphans: 2; text-align: start; text-indent: 0px; text-transform: none; white-space: normal; widows: 2; word-spacing: 0px; -webkit-text-stroke-width: 0px; background-color: rgba(249, 250, 253, 0.89); text-decoration-style: initial; text-decoration-color: initial; display: inline !important; float: none;">4.With&nbsp;wide&nbsp;angle&nbsp;camera&nbsp;give&nbsp;wide&nbsp;range&nbsp;high&nbsp;denfinition&nbsp;pictures&nbsp;and&nbsp;video.</span><br style="color: rgb(0, 0, 0); font-family: &quot;Helvetica Neue&quot;, Helvetica, &quot;PingFang SC&quot;, Tahoma, Arial, sans-serif; font-size: 14px; font-style: normal; font-variant-ligatures: normal; font-variant-caps: normal; font-weight: 400; letter-spacing: normal; orphans: 2; text-align: start; text-indent: 0px; text-transform: none; white-space: normal; widows: 2; word-spacing: 0px; -webkit-text-stroke-width: 0px; background-color: rgba(249, 250, 253, 0.89); text-decoration-style: initial; text-decoration-color: initial;"><span style="color: rgb(0, 0, 0); font-family: &quot;Helvetica Neue&quot;, Helvetica, &quot;PingFang SC&quot;, Tahoma, Arial, sans-serif; font-size: 14px; font-style: normal; font-variant-ligatures: normal; font-variant-caps: normal; font-weight: 400; letter-spacing: normal; orphans: 2; text-align: start; text-indent: 0px; text-transform: none; white-space: normal; widows: 2; word-spacing: 0px; -webkit-text-stroke-width: 0px; background-color: rgba(249, 250, 253, 0.89); text-decoration-style: initial; text-decoration-color: initial; display: inline !important; float: none;">5.With&nbsp;Headless&nbsp;Mode,no&nbsp;need&nbsp;to&nbsp;adjust&nbsp;the&nbsp;position&nbsp;of&nbsp;aircraft&nbsp;before&nbsp;flying&nbsp;.</span><br style="color: rgb(0, 0, 0); font-family: &quot;Helvetica Neue&quot;, Helvetica, &quot;PingFang SC&quot;, Tahoma, Arial, sans-serif; font-size: 14px; font-style: normal; font-variant-ligatures: normal; font-variant-caps: normal; font-weight: 400; letter-spacing: normal; orphans: 2; text-align: start; text-indent: 0px; text-transform: none; white-space: normal; widows: 2; word-spacing: 0px; -webkit-text-stroke-width: 0px; background-color: rgba(249, 250, 253, 0.89); text-decoration-style: initial; text-decoration-color: initial;"><span style="color: rgb(0, 0, 0); font-family: &quot;Helvetica Neue&quot;, Helvetica, &quot;PingFang SC&quot;, Tahoma, Arial, sans-serif; font-size: 14px; font-style: normal; font-variant-ligatures: normal; font-variant-caps: normal; font-weight: 400; letter-spacing: normal; orphans: 2; text-align: start; text-indent: 0px; text-transform: none; white-space: normal; widows: 2; word-spacing: 0px; -webkit-text-stroke-width: 0px; background-color: rgba(249, 250, 253, 0.89); text-decoration-style: initial; text-decoration-color: initial; display: inline !important; float: none;">6.With&nbsp;One&nbsp;key&nbsp;to&nbsp;return&nbsp;function&nbsp;makes&nbsp;it&nbsp;easily&nbsp;to&nbsp;find&nbsp;the&nbsp;way&nbsp;home.</span><br style="color: rgb(0, 0, 0); font-family: &quot;Helvetica Neue&quot;, Helvetica, &quot;PingFang SC&quot;, Tahoma, Arial, sans-serif; font-size: 14px; font-style: normal; font-variant-ligatures: normal; font-variant-caps: normal; font-weight: 400; letter-spacing: normal; orphans: 2; text-align: start; text-indent: 0px; text-transform: none; white-space: normal; widows: 2; word-spacing: 0px; -webkit-text-stroke-width: 0px; background-color: rgba(249, 250, 253, 0.89); text-decoration-style: initial; text-decoration-color: initial;"><span style="color: rgb(0, 0, 0); font-family: &quot;Helvetica Neue&quot;, Helvetica, &quot;PingFang SC&quot;, Tahoma, Arial, sans-serif; font-size: 14px; font-style: normal; font-variant-ligatures: normal; font-variant-caps: normal; font-weight: 400; letter-spacing: normal; orphans: 2; text-align: start; text-indent: 0px; text-transform: none; white-space: normal; widows: 2; word-spacing: 0px; -webkit-text-stroke-width: 0px; background-color: rgba(249, 250, 253, 0.89); text-decoration-style: initial; text-decoration-color: initial; display: inline !important; float: none;">7.2.4GHz&nbsp;Technology&nbsp;Adopted&nbsp;for&nbsp;Anti-Interference.</span><br style="color: rgb(0, 0, 0); font-family: &quot;Helvetica Neue&quot;, Helvetica, &quot;PingFang SC&quot;, Tahoma, Arial, sans-serif; font-size: 14px; font-style: normal; font-variant-ligatures: normal; font-variant-caps: normal; font-weight: 400; letter-spacing: normal; orphans: 2; text-align: start; text-indent: 0px; text-transform: none; white-space: normal; widows: 2; word-spacing: 0px; -webkit-text-stroke-width: 0px; background-color: rgba(249, 250, 253, 0.89); text-decoration-style: initial; text-decoration-color: initial;"><span style="color: rgb(0, 0, 0); font-family: &quot;Helvetica Neue&quot;, Helvetica, &quot;PingFang SC&quot;, Tahoma, Arial, sans-serif; font-size: 14px; font-style: normal; font-variant-ligatures: normal; font-variant-caps: normal; font-weight: 400; letter-spacing: normal; orphans: 2; text-align: start; text-indent: 0px; text-transform: none; white-space: normal; widows: 2; word-spacing: 0px; -webkit-text-stroke-width: 0px; background-color: rgba(249, 250, 253, 0.89); text-decoration-style: initial; text-decoration-color: initial; display: inline !important; float: none;">8.6-axis&nbsp;gyro&nbsp;which&nbsp;can&nbsp;have&nbsp;more&nbsp;stable&nbsp;flying&nbsp;and&nbsp;be&nbsp;easy&nbsp;to&nbsp;control.</span><br style="color: rgb(0, 0, 0); font-family: &quot;Helvetica Neue&quot;, Helvetica, &quot;PingFang SC&quot;, Tahoma, Arial, sans-serif; font-size: 14px; font-style: normal; font-variant-ligatures: normal; font-variant-caps: normal; font-weight: 400; letter-spacing: normal; orphans: 2; text-align: start; text-indent: 0px; text-transform: none; white-space: normal; widows: 2; word-spacing: 0px; -webkit-text-stroke-width: 0px; background-color: rgba(249, 250, 253, 0.89); text-decoration-style: initial; text-decoration-color: initial;"><span style="font-weight: bold;"><span style="background-color: inherit;"><span style="color: rgb(0, 0, 255);"><br style="font-family: &quot;Helvetica Neue&quot;, Helvetica, &quot;PingFang SC&quot;, Tahoma, Arial, sans-serif; font-size: 14px; font-style: normal; font-variant-ligatures: normal; font-variant-caps: normal; letter-spacing: normal; text-align: start; text-indent: 0px; text-transform: none; white-space: normal; word-spacing: 0px; -webkit-text-stroke-width: 0px; text-decoration-style: initial; text-decoration-color: initial;"></span></span></span></font><h3><font style="font-family:Arial" size="4″><span style="font-weight: bold;"><span style="background-color: inherit;"><span style="color: rgb(0, 0, 255);"><span style="font-family: &quot;Helvetica Neue&quot;, Helvetica, &quot;PingFang SC&quot;, Tahoma, Arial, sans-serif; font-size: 14px; font-style: normal; font-variant-ligatures: normal; font-variant-caps: normal; letter-spacing: normal; text-align: start; text-indent: 0px; text-transform: none; white-space: normal; word-spacing: 0px; -webkit-text-stroke-width: 0px; text-decoration-style: initial; text-decoration-color: initial; display: inline !important; float: none;">Descriptions:</span></span></span></span></font></h3><font style="font-family:Arial" size="4″><span style="color: rgb(0, 0, 0); font-family: &quot;Helvetica Neue&quot;, Helvetica, &quot;PingFang SC&quot;, Tahoma, Arial, sans-serif; font-size: 14px; font-style: normal; font-variant-ligatures: normal; font-variant-caps: normal; font-weight: 400; letter-spacing: normal; orphans: 2; text-align: start; text-indent: 0px; text-transform: none; white-space: normal; widows: 2; word-spacing: 0px; -webkit-text-stroke-width: 0px; background-color: rgba(249, 250, 253, 0.89); text-decoration-style: initial; text-decoration-color: initial; display: inline !important; float: none;">1.This&nbsp;is&nbsp;a&nbsp;great&nbsp;drone&nbsp;for&nbsp;you&nbsp;to&nbsp;play.</span><br style="color: rgb(0, 0, 0); font-family: &quot;Helvetica Neue&quot;, Helvetica, &quot;PingFang SC&quot;, Tahoma, Arial, sans-serif; font-size: 14px; font-style: normal; font-variant-ligatures: normal; font-variant-caps: normal; font-weight: 400; letter-spacing: normal; orphans: 2; text-align: start; text-indent: 0px; text-transform: none; white-space: normal; widows: 2; word-spacing: 0px; -webkit-text-stroke-width: 0px; background-color: rgba(249, 250, 253, 0.89); text-decoration-style: initial; text-decoration-color: initial;"><br style="color: rgb(0, 0, 0); font-family: &quot;Helvetica Neue&quot;, Helvetica, &quot;PingFang SC&quot;, Tahoma, Arial, sans-serif; font-size: 14px; font-style: normal; font-variant-ligatures: normal; font-variant-caps: normal; font-weight: 400; letter-spacing: normal; orphans: 2; text-align: start; text-indent: 0px; text-transform: none; white-space: normal; widows: 2; word-spacing: 0px; -webkit-text-stroke-width: 0px; background-color: rgba(249, 250, 253, 0.89); text-decoration-style: initial; text-decoration-color: initial;"></font><h3><font style="font-family:Arial" size="4″><span style="font-weight: bold;"><span style="background-color: inherit;"><span style="color: rgb(0, 0, 255);"><span style="font-family: &quot;Helvetica Neue&quot;, Helvetica, &quot;PingFang SC&quot;, Tahoma, Arial, sans-serif; font-size: 14px; font-style: normal; font-variant-ligatures: normal; font-variant-caps: normal; letter-spacing: normal; text-align: start; text-indent: 0px; text-transform: none; white-space: normal; word-spacing: 0px; -webkit-text-stroke-width: 0px; text-decoration-style: initial; text-decoration-color: initial; display: inline !important; float: none;">Specifications:</span></span></span></span></font></h3><font style="font-family:Arial" size="4″><span style="color: rgb(0, 0, 0); font-family: &quot;Helvetica Neue&quot;, Helvetica, &quot;PingFang SC&quot;, Tahoma, Arial, sans-serif; font-size: 14px; font-style: normal; font-variant-ligatures: normal; font-variant-caps: normal; font-weight: 400; letter-spacing: normal; orphans: 2; text-align: start; text-indent: 0px; text-transform: none; white-space: normal; widows: 2; word-spacing: 0px; -webkit-text-stroke-width: 0px; background-color: rgba(249, 250, 253, 0.89); text-decoration-style: initial; text-decoration-color: initial; display: inline !important; float: none;">Material:&nbsp;ABS,&nbsp;carbon&nbsp;fiber,&nbsp;metal</span><br style="color: rgb(0, 0, 0); font-family: &quot;Helvetica Neue&quot;, Helvetica, &quot;PingFang SC&quot;, Tahoma, Arial, sans-serif; font-size: 14px; font-style: normal; font-variant-ligatures: normal; font-variant-caps: normal; font-weight: 400; letter-spacing: normal; orphans: 2; text-align: start; text-indent: 0px; text-transform: none; white-space: normal; widows: 2; word-spacing: 0px; -webkit-text-stroke-width: 0px; background-color: rgba(249, 250, 253, 0.89); text-decoration-style: initial; text-decoration-color: initial;"><span style="color: rgb(0, 0, 0); font-family: &quot;Helvetica Neue&quot;, Helvetica, &quot;PingFang SC&quot;, Tahoma, Arial, sans-serif; font-size: 14px; font-style: normal; font-variant-ligatures: normal; font-variant-caps: normal; font-weight: 400; letter-spacing: normal; orphans: 2; text-align: start; text-indent: 0px; text-transform: none; white-space: normal; widows: 2; word-spacing: 0px; -webkit-text-stroke-width: 0px; background-color: rgba(249, 250, 253, 0.89); text-decoration-style: initial; text-decoration-color: initial; display: inline !important; float: none;">Color:&nbsp;Gray</span><br style="color: rgb(0, 0, 0); font-family: &quot;Helvetica Neue&quot;, Helvetica, &quot;PingFang SC&quot;, Tahoma, Arial, sans-serif; font-size: 14px; font-style: normal; font-variant-ligatures: normal; font-variant-caps: normal; font-weight: 400; letter-spacing: normal; orphans: 2; text-align: start; text-indent: 0px; text-transform: none; white-space: normal; widows: 2; word-spacing: 0px; -webkit-text-stroke-width: 0px; background-color: rgba(249, 250, 253, 0.89); text-decoration-style: initial; text-decoration-color: initial;"><span style="color: rgb(0, 0, 0); font-family: &quot;Helvetica Neue&quot;, Helvetica, &quot;PingFang SC&quot;, Tahoma, Arial, sans-serif; font-size: 14px; font-style: normal; font-variant-ligatures: normal; font-variant-caps: normal; font-weight: 400; letter-spacing: normal; orphans: 2; text-align: start; text-indent: 0px; text-transform: none; white-space: normal; widows: 2; word-spacing: 0px; -webkit-text-stroke-width: 0px; background-color: rgba(249, 250, 253, 0.89); text-decoration-style: initial; text-decoration-color: initial; display: inline !important; float: none;">Fold&nbsp;Size:&nbsp;12.5×7.5x5cm/4.91×2.95×1.97in</span><br style="color: rgb(0, 0, 0); font-family: &quot;Helvetica Neue&quot;, Helvetica, &quot;PingFang SC&quot;, Tahoma, Arial, sans-serif; font-size: 14px; font-style: normal; font-variant-ligatures: normal; font-variant-caps: normal; font-weight: 400; letter-spacing: normal; orphans: 2; text-align: start; text-indent: 0px; text-transform: none; white-space: normal; widows: 2; word-spacing: 0px; -webkit-text-stroke-width: 0px; background-color: rgba(249, 250, 253, 0.89); text-decoration-style: initial; text-decoration-color: initial;"><span style="color: rgb(0, 0, 0); font-family: &quot;Helvetica Neue&quot;, Helvetica, &quot;PingFang SC&quot;, Tahoma, Arial, sans-serif; font-size: 14px; font-style: normal; font-variant-ligatures: normal; font-variant-caps: normal; font-weight: 400; letter-spacing: normal; orphans: 2; text-align: start; text-indent: 0px; text-transform: none; white-space: normal; widows: 2; word-spacing: 0px; -webkit-text-stroke-width: 0px; background-color: rgba(249, 250, 253, 0.89); text-decoration-style: initial; text-decoration-color: initial; display: inline !important; float: none;">Unfold&nbsp;Size:&nbsp;27×19.5x5cm/10.61×7.66×1.97in</span><br style="color: rgb(0, 0, 0); font-family: &quot;Helvetica Neue&quot;, Helvetica, &quot;PingFang SC&quot;, Tahoma, Arial, sans-serif; font-size: 14px; font-style: normal; font-variant-ligatures: normal; font-variant-caps: normal; font-weight: 400; letter-spacing: normal; orphans: 2; text-align: start; text-indent: 0px; text-transform: none; white-space: normal; widows: 2; word-spacing: 0px; -webkit-text-stroke-width: 0px; background-color: rgba(249, 250, 253, 0.89); text-decoration-style: initial; text-decoration-color: initial;"><span style="color: rgb(0, 0, 0); font-family: &quot;Helvetica Neue&quot;, Helvetica, &quot;PingFang SC&quot;, Tahoma, Arial, sans-serif; font-size: 14px; font-style: normal; font-variant-ligatures: normal; font-variant-caps: normal; font-weight: 400; letter-spacing: normal; orphans: 2; text-align: start; text-indent: 0px; text-transform: none; white-space: normal; widows: 2; word-spacing: 0px; -webkit-text-stroke-width: 0px; background-color: rgba(249, 250, 253, 0.89); text-decoration-style: initial; text-decoration-color: initial; display: inline !important; float: none;">Motor:&nbsp;Brush&nbsp;motor</span><br style="color: rgb(0, 0, 0); font-family: &quot;Helvetica Neue&quot;, Helvetica, &quot;PingFang SC&quot;, Tahoma, Arial, sans-serif; font-size: 14px; font-style: normal; font-variant-ligatures: normal; font-variant-caps: normal; font-weight: 400; letter-spacing: normal; orphans: 2; text-align: start; text-indent: 0px; text-transform: none; white-space: normal; widows: 2; word-spacing: 0px; -webkit-text-stroke-width: 0px; background-color: rgba(249, 250, 253, 0.89); text-decoration-style: initial; text-decoration-color: initial;"><span style="color: rgb(0, 0, 0); font-family: &quot;Helvetica Neue&quot;, Helvetica, &quot;PingFang SC&quot;, Tahoma, Arial, sans-serif; font-size: 14px; font-style: normal; font-variant-ligatures: normal; font-variant-caps: normal; font-weight: 400; letter-spacing: normal; orphans: 2; text-align: start; text-indent: 0px; text-transform: none; white-space: normal; widows: 2; word-spacing: 0px; -webkit-text-stroke-width: 0px; background-color: rgba(249, 250, 253, 0.89); text-decoration-style: initial; text-decoration-color: initial; display: inline !important; float: none;">Frequency:&nbsp;2.4GHz</span><br style="color: rgb(0, 0, 0); font-family: &quot;Helvetica Neue&quot;, Helvetica, &quot;PingFang SC&quot;, Tahoma, Arial, sans-serif; font-size: 14px; font-style: normal; font-variant-ligatures: normal; font-variant-caps: normal; font-weight: 400; letter-spacing: normal; orphans: 2; text-align: start; text-indent: 0px; text-transform: none; white-space: normal; widows: 2; word-spacing: 0px; -webkit-text-stroke-width: 0px; background-color: rgba(249, 250, 253, 0.89); text-decoration-style: initial; text-decoration-color: initial;"><span style="color: rgb(0, 0, 0); font-family: &quot;Helvetica Neue&quot;, Helvetica, &quot;PingFang SC&quot;, Tahoma, Arial, sans-serif; font-size: 14px; font-style: normal; font-variant-ligatures: normal; font-variant-caps: normal; font-weight: 400; letter-spacing: normal; orphans: 2; text-align: start; text-indent: 0px; text-transform: none; white-space: normal; widows: 2; word-spacing: 0px; -webkit-text-stroke-width: 0px; background-color: rgba(249, 250, 253, 0.89); text-decoration-style: initial; text-decoration-color: initial; display: inline !important; float: none;">Camera:&nbsp;720P/1080P(optional)</span><br style="color: rgb(0, 0, 0); font-family: &quot;Helvetica Neue&quot;, Helvetica, &quot;PingFang SC&quot;, Tahoma, Arial, sans-serif; font-size: 14px; font-style: normal; font-variant-ligatures: normal; font-variant-caps: normal; font-weight: 400; letter-spacing: normal; orphans: 2; text-align: start; text-indent: 0px; text-transform: none; white-space: normal; widows: 2; word-spacing: 0px; -webkit-text-stroke-width: 0px; background-color: rgba(249, 250, 253, 0.89); text-decoration-style: initial; text-decoration-color: initial;"><span style="color: rgb(0, 0, 0); font-family: &quot;Helvetica Neue&quot;, Helvetica, &quot;PingFang SC&quot;, Tahoma, Arial, sans-serif; font-size: 14px; font-style: normal; font-variant-ligatures: normal; font-variant-caps: normal; font-weight: 400; letter-spacing: normal; orphans: 2; text-align: start; text-indent: 0px; text-transform: none; white-space: normal; widows: 2; word-spacing: 0px; -webkit-text-stroke-width: 0px; background-color: rgba(249, 250, 253, 0.89); text-decoration-style: initial; text-decoration-color: initial; display: inline !important; float: none;">Drone&nbsp;Battery:&nbsp;3.7V&nbsp;600mAh</span><br style="color: rgb(0, 0, 0); font-family: &quot;Helvetica Neue&quot;, Helvetica, &quot;PingFang SC&quot;, Tahoma, Arial, sans-serif; font-size: 14px; font-style: normal; font-variant-ligatures: normal; font-variant-caps: normal; font-weight: 400; letter-spacing: normal; orphans: 2; text-align: start; text-indent: 0px; text-transform: none; white-space: normal; widows: 2; word-spacing: 0px; -webkit-text-stroke-width: 0px; background-color: rgba(249, 250, 253, 0.89); text-decoration-style: initial; text-decoration-color: initial;"><span style="color: rgb(0, 0, 0); font-family: &quot;Helvetica Neue&quot;, Helvetica, &quot;PingFang SC&quot;, Tahoma, Arial, sans-serif; font-size: 14px; font-style: normal; font-variant-ligatures: normal; font-variant-caps: normal; font-weight: 400; letter-spacing: normal; orphans: 2; text-align: start; text-indent: 0px; text-transform: none; white-space: normal; widows: 2; word-spacing: 0px; -webkit-text-stroke-width: 0px; background-color: rgba(249, 250, 253, 0.89); text-decoration-style: initial; text-decoration-color: initial; display: inline !important; float: none;">Remote&nbsp;Control&nbsp;Battery:&nbsp;3&nbsp;x&nbsp;AA&nbsp;batteries&nbsp;(Not&nbsp;included)</span><br style="color: rgb(0, 0, 0); font-family: &quot;Helvetica Neue&quot;, Helvetica, &quot;PingFang SC&quot;, Tahoma, Arial, sans-serif; font-size: 14px; font-style: normal; font-variant-ligatures: normal; font-variant-caps: normal; font-weight: 400; letter-spacing: normal; orphans: 2; text-align: start; text-indent: 0px; text-transform: none; white-space: normal; widows: 2; word-spacing: 0px; -webkit-text-stroke-width: 0px; background-color: rgba(249, 250, 253, 0.89); text-decoration-style: initial; text-decoration-color: initial;"><span style="color: rgb(0, 0, 0); font-family: &quot;Helvetica Neue&quot;, Helvetica, &quot;PingFang SC&quot;, Tahoma, Arial, sans-serif; font-size: 14px; font-style: normal; font-variant-ligatures: normal; font-variant-caps: normal; font-weight: 400; letter-spacing: normal; orphans: 2; text-align: start; text-indent: 0px; text-transform: none; white-space: normal; widows: 2; word-spacing: 0px; -webkit-text-stroke-width: 0px; background-color: rgba(249, 250, 253, 0.89); text-decoration-style: initial; text-decoration-color: initial; display: inline !important; float: none;">Flight&nbsp;time:&nbsp;7-8&nbsp;min</span><br style="color: rgb(0, 0, 0); font-family: &quot;Helvetica Neue&quot;, Helvetica, &quot;PingFang SC&quot;, Tahoma, Arial, sans-serif; font-size: 14px; font-style: normal; font-variant-ligatures: normal; font-variant-caps: normal; font-weight: 400; letter-spacing: normal; orphans: 2; text-align: start; text-indent: 0px; text-transform: none; white-space: normal; widows: 2; word-spacing: 0px; -webkit-text-stroke-width: 0px; background-color: rgba(249, 250, 253, 0.89); text-decoration-style: initial; text-decoration-color: initial;"><span style="color: rgb(0, 0, 0); font-family: &quot;Helvetica Neue&quot;, Helvetica, &quot;PingFang SC&quot;, Tahoma, Arial, sans-serif; font-size: 14px; font-style: normal; font-variant-ligatures: normal; font-variant-caps: normal; font-weight: 400; letter-spacing: normal; orphans: 2; text-align: start; text-indent: 0px; text-transform: none; white-space: normal; widows: 2; word-spacing: 0px; -webkit-text-stroke-width: 0px; background-color: rgba(249, 250, 253, 0.89); text-decoration-style: initial; text-decoration-color: initial; display: inline !important; float: none;">Charging&nbsp;time:&nbsp;about&nbsp;30-45&nbsp;min</span><br style="color: rgb(0, 0, 0); font-family: &quot;Helvetica Neue&quot;, Helvetica, &quot;PingFang SC&quot;, Tahoma, Arial, sans-serif; font-size: 14px; font-style: normal; font-variant-ligatures: normal; font-variant-caps: normal; font-weight: 400; letter-spacing: normal; orphans: 2; text-align: start; text-indent: 0px; text-transform: none; white-space: normal; widows: 2; word-spacing: 0px; -webkit-text-stroke-width: 0px; background-color: rgba(249, 250, 253, 0.89); text-decoration-style: initial; text-decoration-color: initial;"><span style="color: rgb(0, 0, 0); font-family: &quot;Helvetica Neue&quot;, Helvetica, &quot;PingFang SC&quot;, Tahoma, Arial, sans-serif; font-size: 14px; font-style: normal; font-variant-ligatures: normal; font-variant-caps: normal; font-weight: 400; letter-spacing: normal; orphans: 2; text-align: start; text-indent: 0px; text-transform: none; white-space: normal; widows: 2; word-spacing: 0px; -webkit-text-stroke-width: 0px; background-color: rgba(249, 250, 253, 0.89); text-decoration-style: initial; text-decoration-color: initial; display: inline !important; float: none;">Remote&nbsp;distance:&nbsp;about&nbsp;100&nbsp;m</span><br style="color: rgb(0, 0, 0); font-family: &quot;Helvetica Neue&quot;, Helvetica, &quot;PingFang SC&quot;, Tahoma, Arial, sans-serif; font-size: 14px; font-style: normal; font-variant-ligatures: normal; font-variant-caps: normal; font-weight: 400; letter-spacing: normal; orphans: 2; text-align: start; text-indent: 0px; text-transform: none; white-space: normal; widows: 2; word-spacing: 0px; -webkit-text-stroke-width: 0px; background-color: rgba(249, 250, 253, 0.89); text-decoration-style: initial; text-decoration-color: initial;"><span style="color: rgb(0, 0, 0); font-family: &quot;Helvetica Neue&quot;, Helvetica, &quot;PingFang SC&quot;, Tahoma, Arial, sans-serif; font-size: 14px; font-style: normal; font-variant-ligatures: normal; font-variant-caps: normal; font-weight: 400; letter-spacing: normal; orphans: 2; text-align: start; text-indent: 0px; text-transform: none; white-space: normal; widows: 2; word-spacing: 0px; -webkit-text-stroke-width: 0px; background-color: rgba(249, 250, 253, 0.89); text-decoration-style: initial; text-decoration-color: initial; display: inline !important; float: none;">Speed:&nbsp;30km/h</span><br style="color: rgb(0, 0, 0); font-family: &quot;Helvetica Neue&quot;, Helvetica, &quot;PingFang SC&quot;, Tahoma, Arial, sans-serif; font-size: 14px; font-style: normal; font-variant-ligatures: normal; font-variant-caps: normal; font-weight: 400; letter-spacing: normal; orphans: 2; text-align: start; text-indent: 0px; text-transform: none; white-space: normal; widows: 2; word-spacing: 0px; -webkit-text-stroke-width: 0px; background-color: rgba(249, 250, 253, 0.89); text-decoration-style: initial; text-decoration-color: initial;"><span style="color: rgb(0, 0, 0); font-family: &quot;Helvetica Neue&quot;, Helvetica, &quot;PingFang SC&quot;, Tahoma, Arial, sans-serif; font-size: 14px; font-style: normal; font-variant-ligatures: normal; font-variant-caps: normal; font-weight: 400; letter-spacing: normal; orphans: 2; text-align: start; text-indent: 0px; text-transform: none; white-space: normal; widows: 2; word-spacing: 0px; -webkit-text-stroke-width: 0px; background-color: rgba(249, 250, 253, 0.89); text-decoration-style: initial; text-decoration-color: initial; display: inline !important; float: none;">Applicable&nbsp;age:&nbsp;14&nbsp;years&nbsp;old&nbsp;+</span><br style="color: rgb(0, 0, 0); font-family: &quot;Helvetica Neue&quot;, Helvetica, &quot;PingFang SC&quot;, Tahoma, Arial, sans-serif; font-size: 14px; font-style: normal; font-variant-ligatures: normal; font-variant-caps: normal; font-weight: 400; letter-spacing: normal; orphans: 2; text-align: start; text-indent: 0px; text-transform: none; white-space: normal; widows: 2; word-spacing: 0px; -webkit-text-stroke-width: 0px; background-color: rgba(249, 250, 253, 0.89); text-decoration-style: initial; text-decoration-color: initial;"><br style="color: rgb(0, 0, 0); font-family: &quot;Helvetica Neue&quot;, Helvetica, &quot;PingFang SC&quot;, Tahoma, Arial, sans-serif; font-size: 14px; font-style: normal; font-variant-ligatures: normal; font-variant-caps: normal; font-weight: 400; letter-spacing: normal; orphans: 2; text-align: start; text-indent: 0px; text-transform: none; white-space: normal; widows: 2; word-spacing: 0px; -webkit-text-stroke-width: 0px; background-color: rgba(249, 250, 253, 0.89); text-decoration-style: initial; text-decoration-color: initial;"></font><h3><font style="font-family:Arial" size="4″><span style="font-weight: bold;"><span style="background-color: inherit;"><span style="color: rgb(0, 0, 255);"><span style="font-family: &quot;Helvetica Neue&quot;, Helvetica, &quot;PingFang SC&quot;, Tahoma, Arial, sans-serif; font-size: 14px; font-style: normal; font-variant-ligatures: normal; font-variant-caps: normal; letter-spacing: normal; text-align: start; text-indent: 0px; text-transform: none; white-space: normal; word-spacing: 0px; -webkit-text-stroke-width: 0px; text-decoration-style: initial; text-decoration-color: initial; display: inline !important; float: none;">Package&nbsp;information:</span></span></span></span></font></h3><font style="font-family:Arial" size="4″><span style="color: rgb(0, 0, 0); font-family: &quot;Helvetica Neue&quot;, Helvetica, &quot;PingFang SC&quot;, Tahoma, Arial, sans-serif; font-size: 14px; font-style: normal; font-variant-ligatures: normal; font-variant-caps: normal; font-weight: 400; letter-spacing: normal; orphans: 2; text-align: start; text-indent: 0px; text-transform: none; white-space: normal; widows: 2; word-spacing: 0px; -webkit-text-stroke-width: 0px; background-color: rgba(249, 250, 253, 0.89); text-decoration-style: initial; text-decoration-color: initial; display: inline !important; float: none;">Colorful&nbsp;Box:</span><br style="color: rgb(0, 0, 0); font-family: &quot;Helvetica Neue&quot;, Helvetica, &quot;PingFang SC&quot;, Tahoma, Arial, sans-serif; font-size: 14px; font-style: normal; font-variant-ligatures: normal; font-variant-caps: normal; font-weight: 400; letter-spacing: normal; orphans: 2; text-align: start; text-indent: 0px; text-transform: none; white-space: normal; widows: 2; word-spacing: 0px; -webkit-text-stroke-width: 0px; background-color: rgba(249, 250, 253, 0.89); text-decoration-style: initial; text-decoration-color: initial;"><span style="color: rgb(0, 0, 0); font-family: &quot;Helvetica Neue&quot;, Helvetica, &quot;PingFang SC&quot;, Tahoma, Arial, sans-serif; font-size: 14px; font-style: normal; font-variant-ligatures: normal; font-variant-caps: normal; font-weight: 400; letter-spacing: normal; orphans: 2; text-align: start; text-indent: 0px; text-transform: none; white-space: normal; widows: 2; word-spacing: 0px; -webkit-text-stroke-width: 0px; background-color: rgba(249, 250, 253, 0.89); text-decoration-style: initial; text-decoration-color: initial; display: inline !important; float: none;">Package&nbsp;size:190x165x75mm/7.41×6.44×2.93in</span><br style="color: rgb(0, 0, 0); font-family: &quot;Helvetica Neue&quot;, Helvetica, &quot;PingFang SC&quot;, Tahoma, Arial, sans-serif; font-size: 14px; font-style: normal; font-variant-ligatures: normal; font-variant-caps: normal; font-weight: 400; letter-spacing: normal; orphans: 2; text-align: start; text-indent: 0px; text-transform: none; white-space: normal; widows: 2; word-spacing: 0px; -webkit-text-stroke-width: 0px; background-color: rgba(249, 250, 253, 0.89); text-decoration-style: initial; text-decoration-color: initial;"><span style="color: rgb(0, 0, 0); font-family: &quot;Helvetica Neue&quot;, Helvetica, &quot;PingFang SC&quot;, Tahoma, Arial, sans-serif; font-size: 14px; font-style: normal; font-variant-ligatures: normal; font-variant-caps: normal; font-weight: 400; letter-spacing: normal; orphans: 2; text-align: start; text-indent: 0px; text-transform: none; white-space: normal; widows: 2; word-spacing: 0px; -webkit-text-stroke-width: 0px; background-color: rgba(249, 250, 253, 0.89); text-decoration-style: initial; text-decoration-color: initial; display: inline !important; float: none;">Package&nbsp;weight:&nbsp;423g/14.81oz</span></font><p><font style="font-family:Arial" size="4″><span style="color: rgb(0, 0, 0); font-family: &quot;Helvetica Neue&quot;, Helvetica, &quot;PingFang SC&quot;, Tahoma, Arial, sans-serif; font-size: 14px; font-style: normal; font-variant-ligatures: normal; font-variant-caps: normal; font-weight: 400; letter-spacing: normal; orphans: 2; text-align: start; text-indent: 0px; text-transform: none; white-space: normal; widows: 2; word-spacing: 0px; -webkit-text-stroke-width: 0px; background-color: rgba(249, 250, 253, 0.89); text-decoration-style: initial; text-decoration-color: initial; display: inline !important; float: none;"></span><br style="color: rgb(0, 0, 0); font-family: &quot;Helvetica Neue&quot;, Helvetica, &quot;PingFang SC&quot;, Tahoma, Arial, sans-serif; font-size: 14px; font-style: normal; font-variant-ligatures: normal; font-variant-caps: normal; font-weight: 400; letter-spacing: normal; orphans: 2; text-align: start; text-indent: 0px; text-transform: none; white-space: normal; widows: 2; word-spacing: 0px; -webkit-text-stroke-width: 0px; background-color: rgba(249, 250, 253, 0.89); text-decoration-style: initial; text-decoration-color: initial;"></font></p><h3><font style="font-family:Arial" size="4″><span style="font-weight: bold;"><span style="background-color: inherit;"><span style="color: rgb(0, 0, 255);"><span style="font-family: &quot;Helvetica Neue&quot;, Helvetica, &quot;PingFang SC&quot;, Tahoma, Arial, sans-serif; font-size: 14px; font-style: normal; font-variant-ligatures: normal; font-variant-caps: normal; letter-spacing: normal; text-align: start; text-indent: 0px; text-transform: none; white-space: normal; word-spacing: 0px; -webkit-text-stroke-width: 0px; text-decoration-style: initial; text-decoration-color: initial; display: inline !important; float: none;">Package&nbsp;Included:</span></span></span></span></font></h3><p><font style="font-family:Arial" size="4″><span style="color: rgb(0, 0, 0); font-family: &quot;Helvetica Neue&quot;, Helvetica, &quot;PingFang SC&quot;, Tahoma, Arial, sans-serif; font-size: 14px; font-style: normal; font-variant-ligatures: normal; font-variant-caps: normal; font-weight: 400; letter-spacing: normal; orphans: 2; text-align: start; text-indent: 0px; text-transform: none; white-space: normal; widows: 2; word-spacing: 0px; -webkit-text-stroke-width: 0px; background-color: rgba(249, 250, 253, 0.89); text-decoration-style: initial; text-decoration-color: initial; display: inline !important; float: none;">1&nbsp;x&nbsp;RC&nbsp;Drone</span><br style="color: rgb(0, 0, 0); font-family: &quot;Helvetica Neue&quot;, Helvetica, &quot;PingFang SC&quot;, Tahoma, Arial, sans-serif; font-size: 14px; font-style: normal; font-variant-ligatures: normal; font-variant-caps: normal; font-weight: 400; letter-spacing: normal; orphans: 2; text-align: start; text-indent: 0px; text-transform: none; white-space: normal; widows: 2; word-spacing: 0px; -webkit-text-stroke-width: 0px; background-color: rgba(249, 250, 253, 0.89); text-decoration-style: initial; text-decoration-color: initial;"><span style="color: rgb(0, 0, 0); font-family: &quot;Helvetica Neue&quot;, Helvetica, &quot;PingFang SC&quot;, Tahoma, Arial, sans-serif; font-size: 14px; font-style: normal; font-variant-ligatures: normal; font-variant-caps: normal; font-weight: 400; letter-spacing: normal; orphans: 2; text-align: start; text-indent: 0px; text-transform: none; white-space: normal; widows: 2; word-spacing: 0px; -webkit-text-stroke-width: 0px; background-color: rgba(249, 250, 253, 0.89); text-decoration-style: initial; text-decoration-color: initial; display: inline !important; float: none;">1&nbsp;x&nbsp;Remote&nbsp;Controller</span><br style="color: rgb(0, 0, 0); font-family: &quot;Helvetica Neue&quot;, Helvetica, &quot;PingFang SC&quot;, Tahoma, Arial, sans-serif; font-size: 14px; font-style: normal; font-variant-ligatures: normal; font-variant-caps: normal; font-weight: 400; letter-spacing: normal; orphans: 2; text-align: start; text-indent: 0px; text-transform: none; white-space: normal; widows: 2; word-spacing: 0px; -webkit-text-stroke-width: 0px; background-color: rgba(249, 250, 253, 0.89); text-decoration-style: initial; text-decoration-color: initial;"><span style="color: rgb(0, 0, 0); font-family: &quot;Helvetica Neue&quot;, Helvetica, &quot;PingFang SC&quot;, Tahoma, Arial, sans-serif; font-size: 14px; font-style: normal; font-variant-ligatures: normal; font-variant-caps: normal; font-weight: 400; letter-spacing: normal; orphans: 2; text-align: start; text-indent: 0px; text-transform: none; white-space: normal; widows: 2; word-spacing: 0px; -webkit-text-stroke-width: 0px; background-color: rgba(249, 250, 253, 0.89); text-decoration-style: initial; text-decoration-color: initial; display: inline !important; float: none;">4&nbsp;x&nbsp;Landing&nbsp;Gear</span><br style="color: rgb(0, 0, 0); font-family: &quot;Helvetica Neue&quot;, Helvetica, &quot;PingFang SC&quot;, Tahoma, Arial, sans-serif; font-size: 14px; font-style: normal; font-variant-ligatures: normal; font-variant-caps: normal; font-weight: 400; letter-spacing: normal; orphans: 2; text-align: start; text-indent: 0px; text-transform: none; white-space: normal; widows: 2; word-spacing: 0px; -webkit-text-stroke-width: 0px; background-color: rgba(249, 250, 253, 0.89); text-decoration-style: initial; text-decoration-color: initial;"><span style="color: rgb(0, 0, 0); font-family: &quot;Helvetica Neue&quot;, Helvetica, &quot;PingFang SC&quot;, Tahoma, Arial, sans-serif; font-size: 14px; font-style: normal; font-variant-ligatures: normal; font-variant-caps: normal; font-weight: 400; letter-spacing: normal; orphans: 2; text-align: start; text-indent: 0px; text-transform: none; white-space: normal; widows: 2; word-spacing: 0px; -webkit-text-stroke-width: 0px; background-color: rgba(249, 250, 253, 0.89); text-decoration-style: initial; text-decoration-color: initial; display: inline !important; float: none;">2&nbsp;x&nbsp;Pair&nbsp;of&nbsp;Propeller&nbsp;Guard</span><br style="color: rgb(0, 0, 0); font-family: &quot;Helvetica Neue&quot;, Helvetica, &quot;PingFang SC&quot;, Tahoma, Arial, sans-serif; font-size: 14px; font-style: normal; font-variant-ligatures: normal; font-variant-caps: normal; font-weight: 400; letter-spacing: normal; orphans: 2; text-align: start; text-indent: 0px; text-transform: none; white-space: normal; widows: 2; word-spacing: 0px; -webkit-text-stroke-width: 0px; background-color: rgba(249, 250, 253, 0.89); text-decoration-style: initial; text-decoration-color: initial;"><span style="color: rgb(0, 0, 0); font-family: &quot;Helvetica Neue&quot;, Helvetica, &quot;PingFang SC&quot;, Tahoma, Arial, sans-serif; font-size: 14px; font-style: normal; font-variant-ligatures: normal; font-variant-caps: normal; font-weight: 400; letter-spacing: normal; orphans: 2; text-align: start; text-indent: 0px; text-transform: none; white-space: normal; widows: 2; word-spacing: 0px; -webkit-text-stroke-width: 0px; background-color: rgba(249, 250, 253, 0.89); text-decoration-style: initial; text-decoration-color: initial; display: inline !important; float: none;">1&nbsp;x&nbsp;USB&nbsp;Charger</span><br style="color: rgb(0, 0, 0); font-family: &quot;Helvetica Neue&quot;, Helvetica, &quot;PingFang SC&quot;, Tahoma, Arial, sans-serif; font-size: 14px; font-style: normal; font-variant-ligatures: normal; font-variant-caps: normal; font-weight: 400; letter-spacing: normal; orphans: 2; text-align: start; text-indent: 0px; text-transform: none; white-space: normal; widows: 2; word-spacing: 0px; -webkit-text-stroke-width: 0px; background-color: rgba(249, 250, 253, 0.89); text-decoration-style: initial; text-decoration-color: initial;"><span style="color: rgb(0, 0, 0); font-family: &quot;Helvetica Neue&quot;, Helvetica, &quot;PingFang SC&quot;, Tahoma, Arial, sans-serif; font-size: 14px; font-style: normal; font-variant-ligatures: normal; font-variant-caps: normal; font-weight: 400; letter-spacing: normal; orphans: 2; text-align: start; text-indent: 0px; text-transform: none; white-space: normal; widows: 2; word-spacing: 0px; -webkit-text-stroke-width: 0px; background-color: rgba(249, 250, 253, 0.89); text-decoration-style: initial; text-decoration-color: initial; display: inline !important; float: none;">1&nbsp;x&nbsp;Screwdriver</span><br style="color: rgb(0, 0, 0); font-family: &quot;Helvetica Neue&quot;, Helvetica, &quot;PingFang SC&quot;, Tahoma, Arial, sans-serif; font-size: 14px; font-style: normal; font-variant-ligatures: normal; font-variant-caps: normal; font-weight: 400; letter-spacing: normal; orphans: 2; text-align: start; text-indent: 0px; text-transform: none; white-space: normal; widows: 2; word-spacing: 0px; -webkit-text-stroke-width: 0px; background-color: rgba(249, 250, 253, 0.89); text-decoration-style: initial; text-decoration-color: initial;"><span style="color: rgb(0, 0, 0); font-family: &quot;Helvetica Neue&quot;, Helvetica, &quot;PingFang SC&quot;, Tahoma, Arial, sans-serif; font-size: 14px; font-style: normal; font-variant-ligatures: normal; font-variant-caps: normal; font-weight: 400; letter-spacing: normal; orphans: 2; text-align: start; text-indent: 0px; text-transform: none; white-space: normal; widows: 2; word-spacing: 0px; -webkit-text-stroke-width: 0px; background-color: rgba(249, 250, 253, 0.89); text-decoration-style: initial; text-decoration-color: initial; display: inline !important; float: none;">1&nbsp;x&nbsp;English&nbsp;Manual&nbsp;&nbsp; <br></span></font></p><p><font style="font-family:Arial" size="4″><img style="width: 1010px;" src="https://img2.photo137.com/CDM1/RC908911-D-13-1.jpg"></font></p><p><font style="font-family:Arial" size="4″><img style="width: 1010px;" src="https://img2.photo137.com/CDM1/RC908911-D-6-1.jpg"></font></p><p><font style="font-family:Arial" size="4″><img style="width: 1010px;" src="https://img2.photo137.com/CDM1/RC908911-D-7-1.jpg"></font></p><p><font style="font-family:Arial" size="4″><img style="width: 1010px;" src="https://img2.photo137.com/CDM1/RC908911-D-14-1.jpg"></font></p><p><font style="font-family:Arial" size="4″><img style="width: 1010px;" src="https://img2.photo137.com/CDM1/RC908911-S-2-1.jpg"></font></p><p><font style="font-family:Arial" size="4″><img style="width: 1010px;" src="https://img2.photo137.com/CDM1/RC908911-C-7-1.jpg"></font></p><p><font style="font-family:Arial" size="4″><img style="width: 1010px;" src="https://img2.photo137.com/CDM1/RC908911-C-6-1.jpg"><br></font></p><p><img style="width: 1010px;" src="https://img2.photo137.com/CDM1/RC908912-P-3-1.jpg"></p><p><img style="width: 1010px;" src="https://img2.photo137.com/CDM1/RC870602-D-26-1.jpg"><font style="font-family:Arial" size="4″><br></font></p><p><img style="width: 1010px;" src="https://img2.photo137.com/CDM1/RC870602-D-30-1.jpg"><font style="font-family:Arial" size="4″><br></font></p><p><img style="width: 1010px;" src="https://img2.photo137.com/CDM1/RC870602-D-27-1.jpg"><font style="font-family:Arial" size="4″><br></font></p><p><img style="width: 1010px;" src="https://img2.photo137.com/CDM1/RC870602-D-29-1.jpg"><font style="font-family:Arial" size="4″><br></font></p><p><img style="width: 1010px;" src="https://img2.photo137.com/CDM1/RC870602-D-24-1.jpg"><font style="font-family:Arial" size="4″><br></font></p><p><img style="width: 1010px;" src="https://img2.photo137.com/CDM1/RC870602-D-25-1.jpg"><font style="font-family:Arial" size="4″><br></font></p><p><img style="width: 1010px;" src="https://img2.photo137.com/CDM1/RC870602-S-35-1.jpg"><font style="font-family:Arial" size="4″><br></font></p><p><img style="width: 1010px;" src="https://img2.photo137.com/CDM1/RC870602-D-23-1.jpg"><font style="font-family:Arial" size="4″><br></font></p><p><br></p>
DJI Mavic Pro Clone Drone With Wifi FPV 1080P HD Camera Foldable RC Quadcopter ✔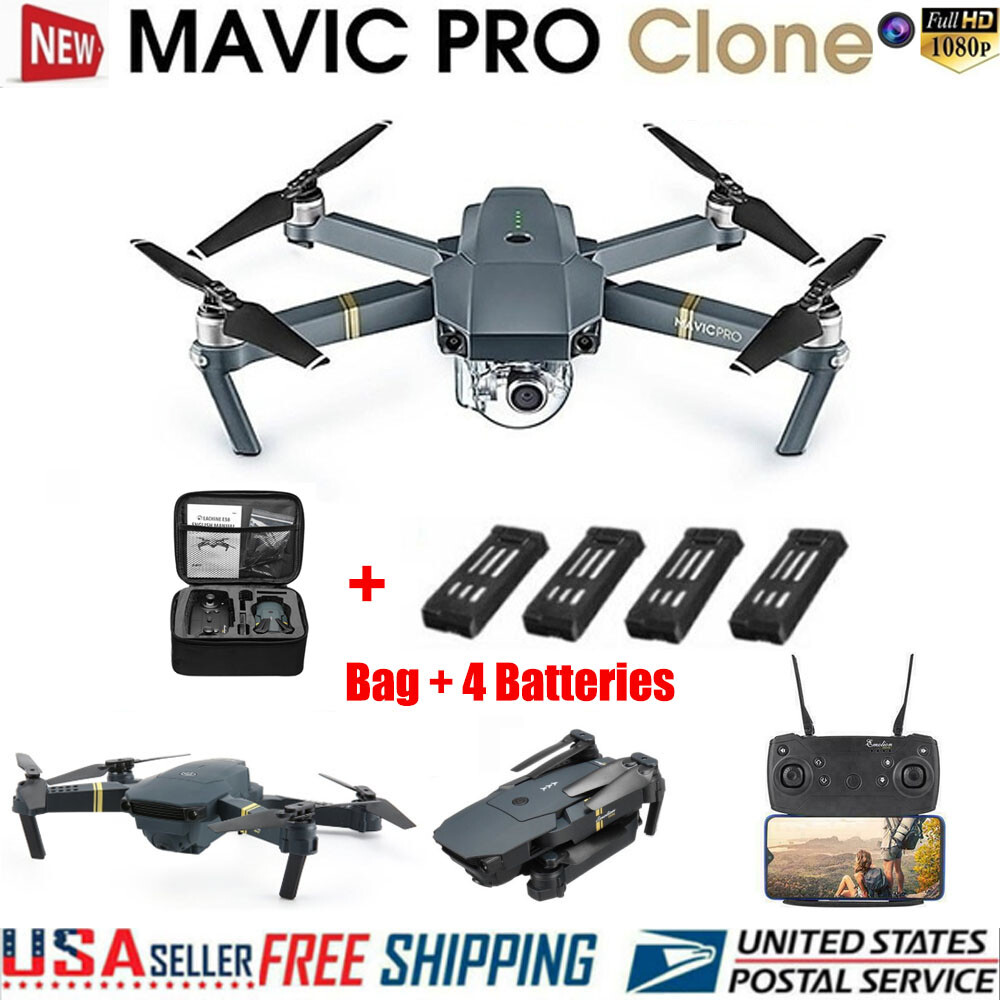 Features:
1.With foldable arms, small size, easy to carry.
2.With altitude hold mode function provides stable flight.
3.With wifi function can be connected APP, APK system to take pictures, video, real-time transmission through the phone camera image.
4.With wide angle camera give wide range high denfinition pictures and video.
5.With Headless Mode,no need to adjust the position of aircraft before flying .
6.With One key to return function makes it easily to find the way home.
7.2.4GHz Technology Adopted for Anti-Interference.
8.6-axis gyro which can have more stable flying and be easy to control.


Descriptions:
1.This is a great drone for you to play.


Specifications:
Material: ABS, carbon fiber, metal
Color: Gray
Fold Size: 12.5×7.5x5cm/4.91×2.95×1.97in
Unfold Size: 27×19.5x5cm/10.61×7.66×1.97in
Motor: Brush motor
Frequency: 2.4GHz
Camera: 720P/1080P(optional)
Drone Battery: 3.7V 600mAh
Remote Control Battery: 3 x AA batteries (Not included)
Flight time: 7-8 min
Charging time: about 30-45 min
Remote distance: about 100 m
Speed: 30km/h
Applicable age: 14 years old +


Package information:
Colorful Box:
Package size:190x165x75mm/7.41×6.44×2.93in
Package weight: 423g/14.81oz
Package Included:
1 x RC Drone
1 x Remote Controller
4 x Landing Gear
2 x Pair of Propeller Guard
1 x USB Charger
1 x Screwdriver
1 x English Manual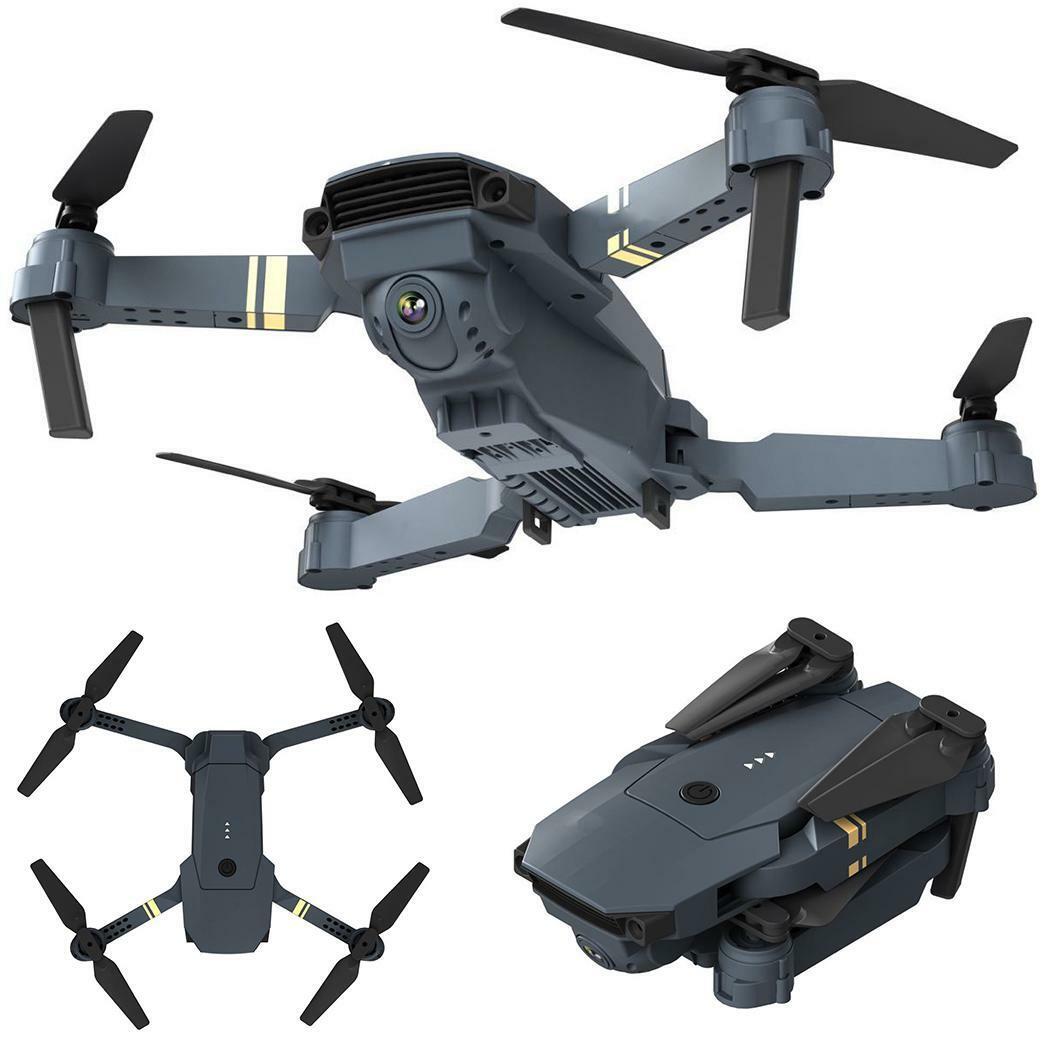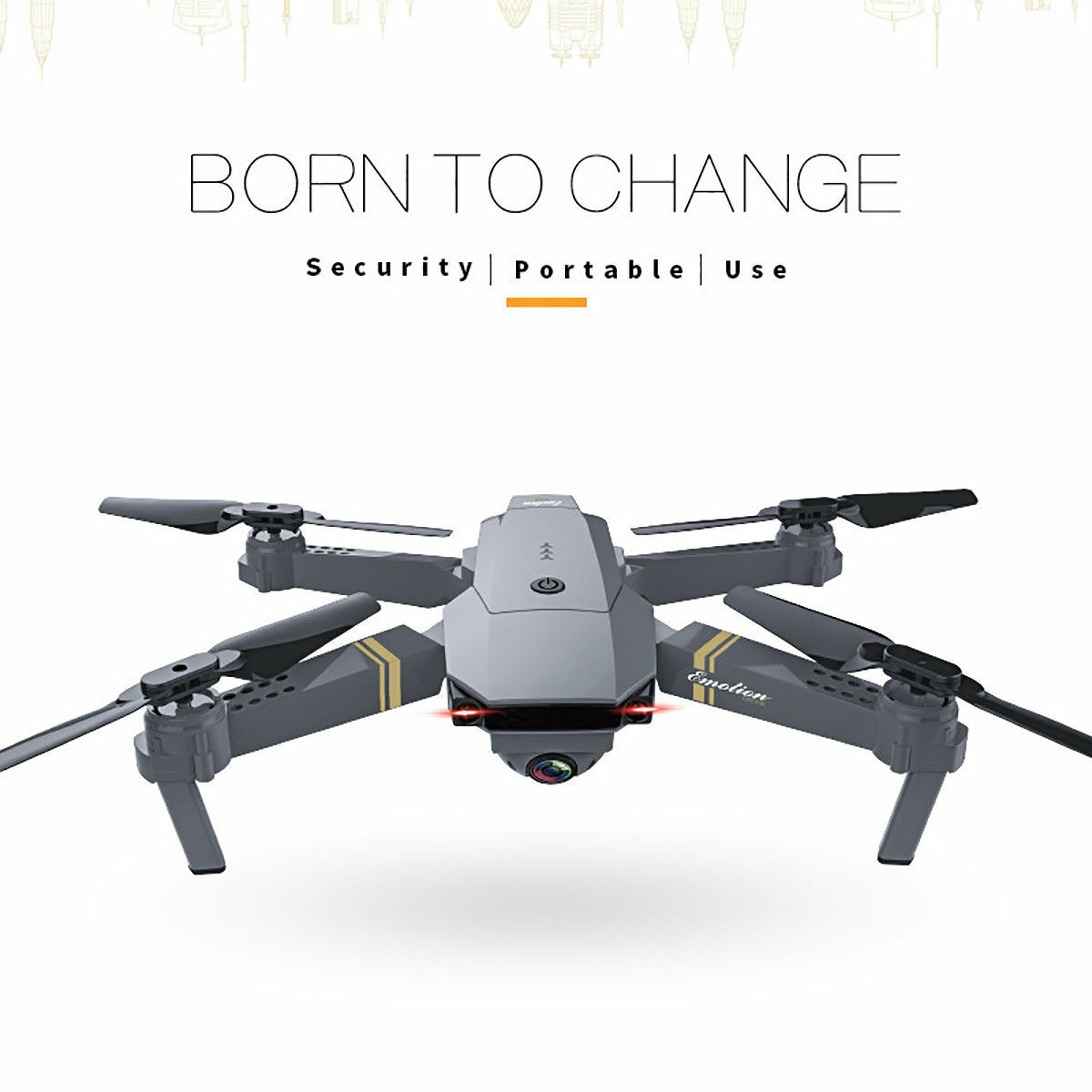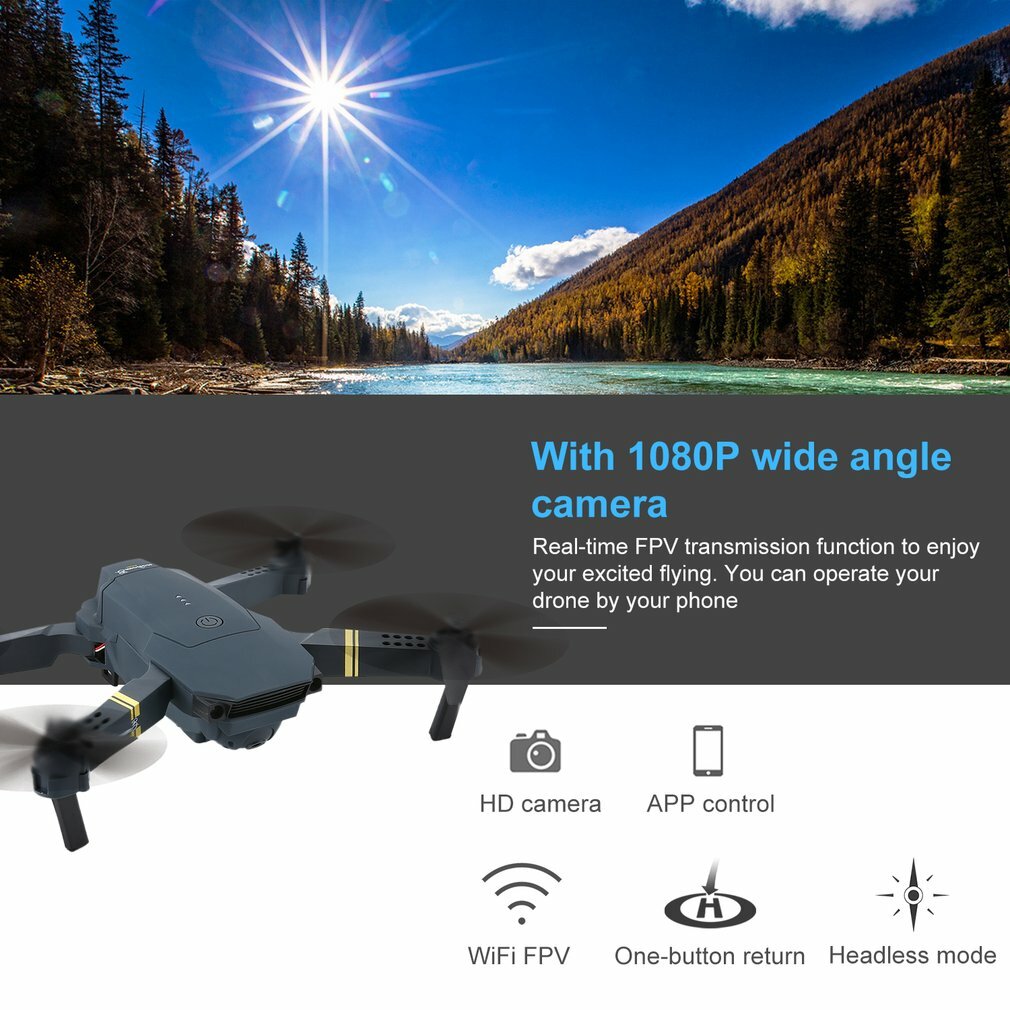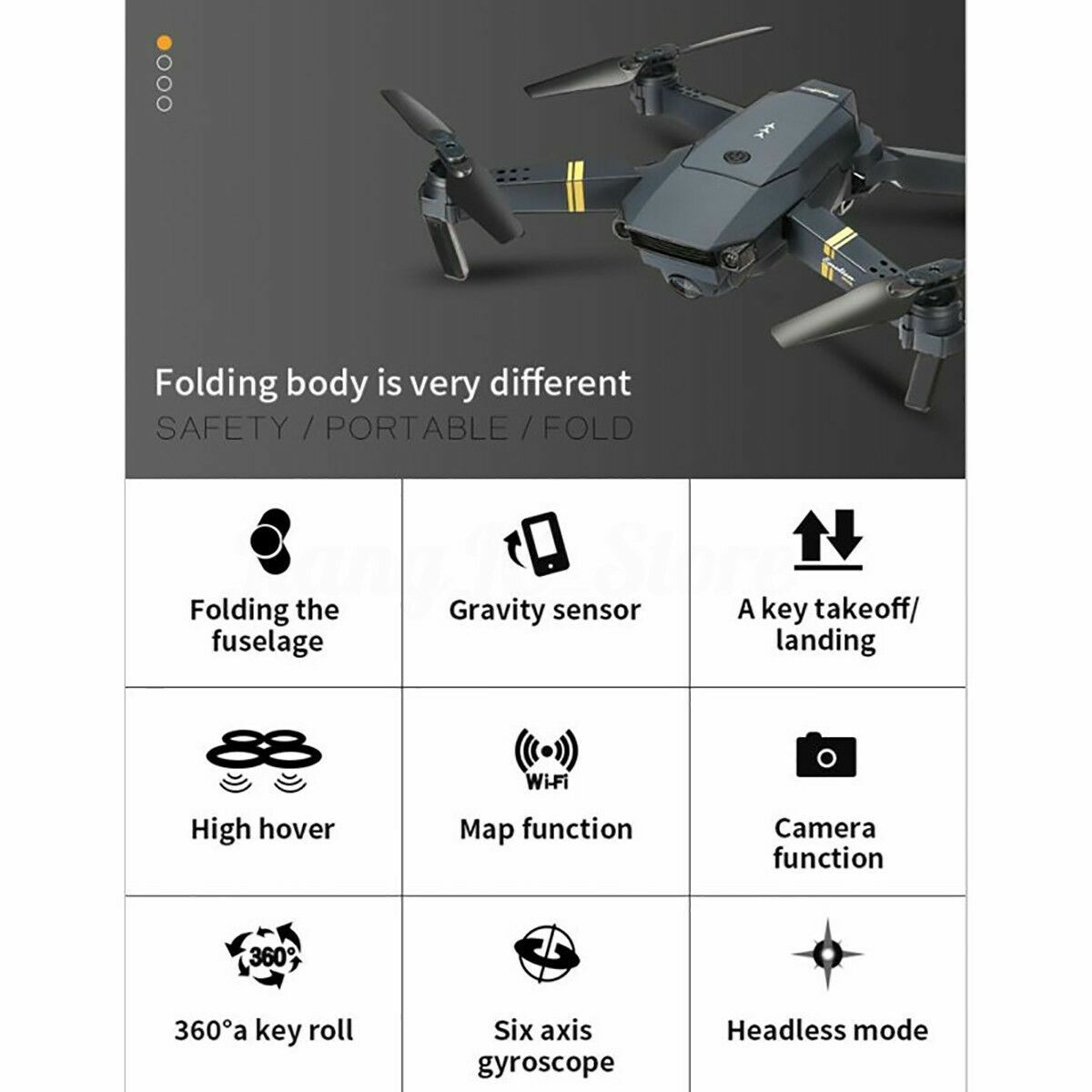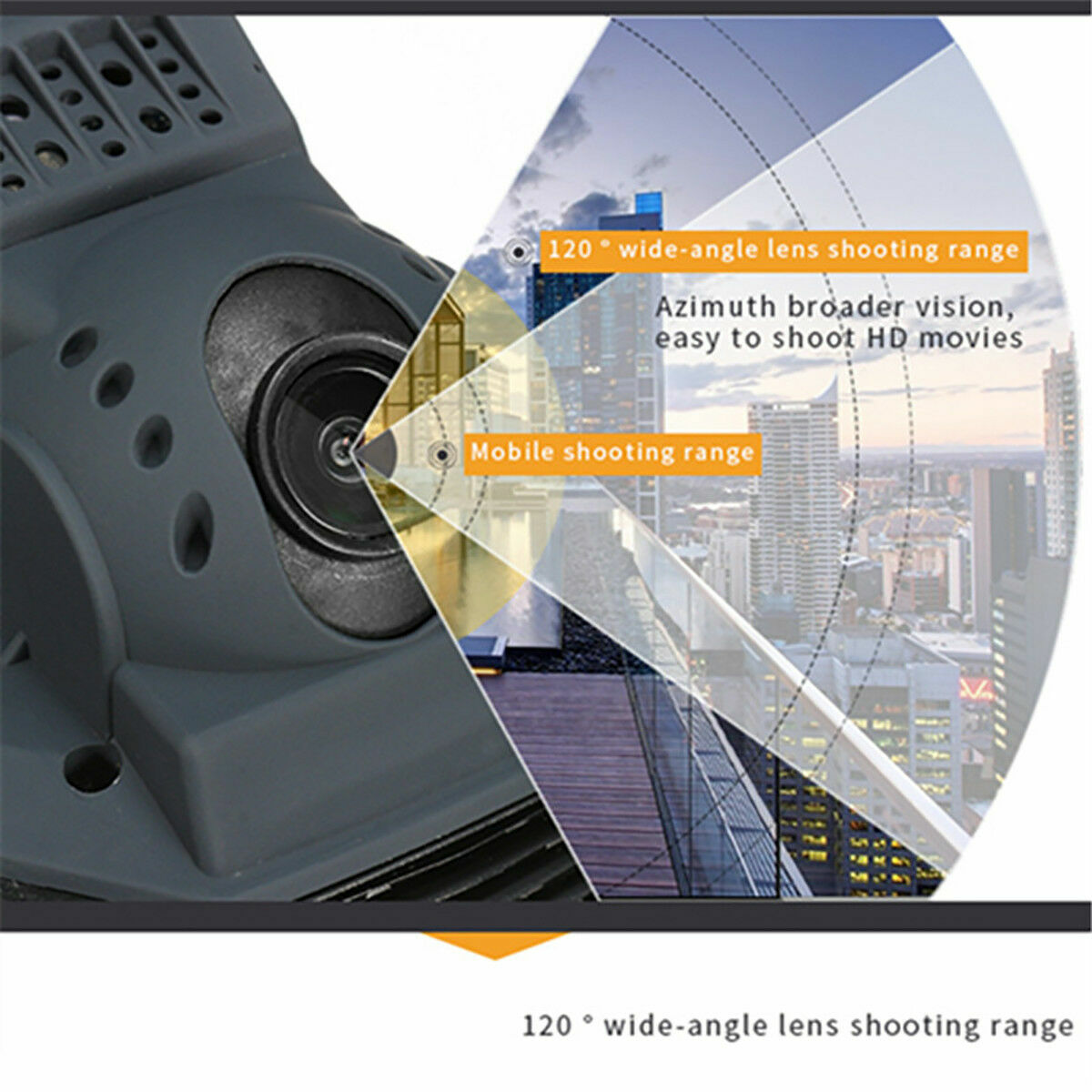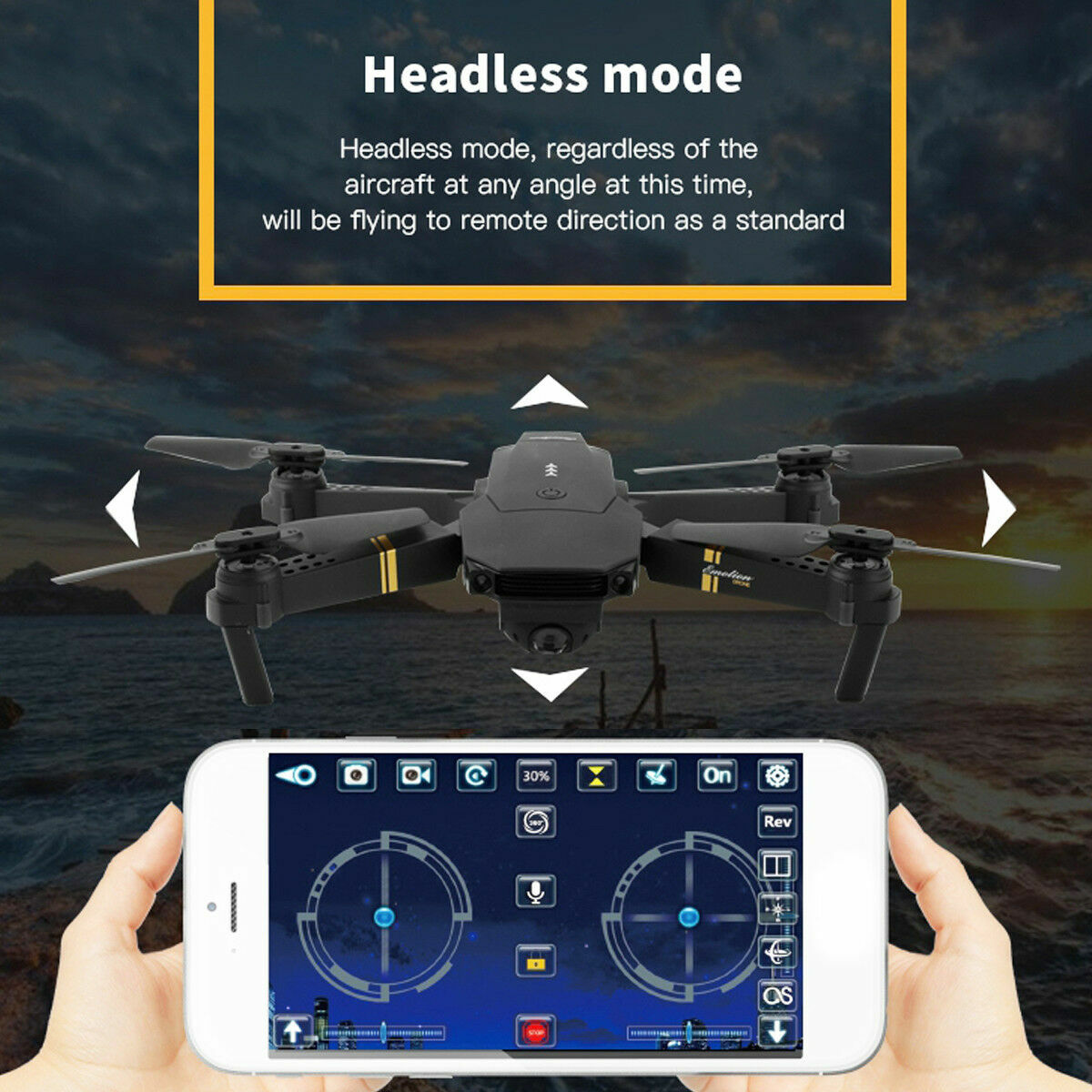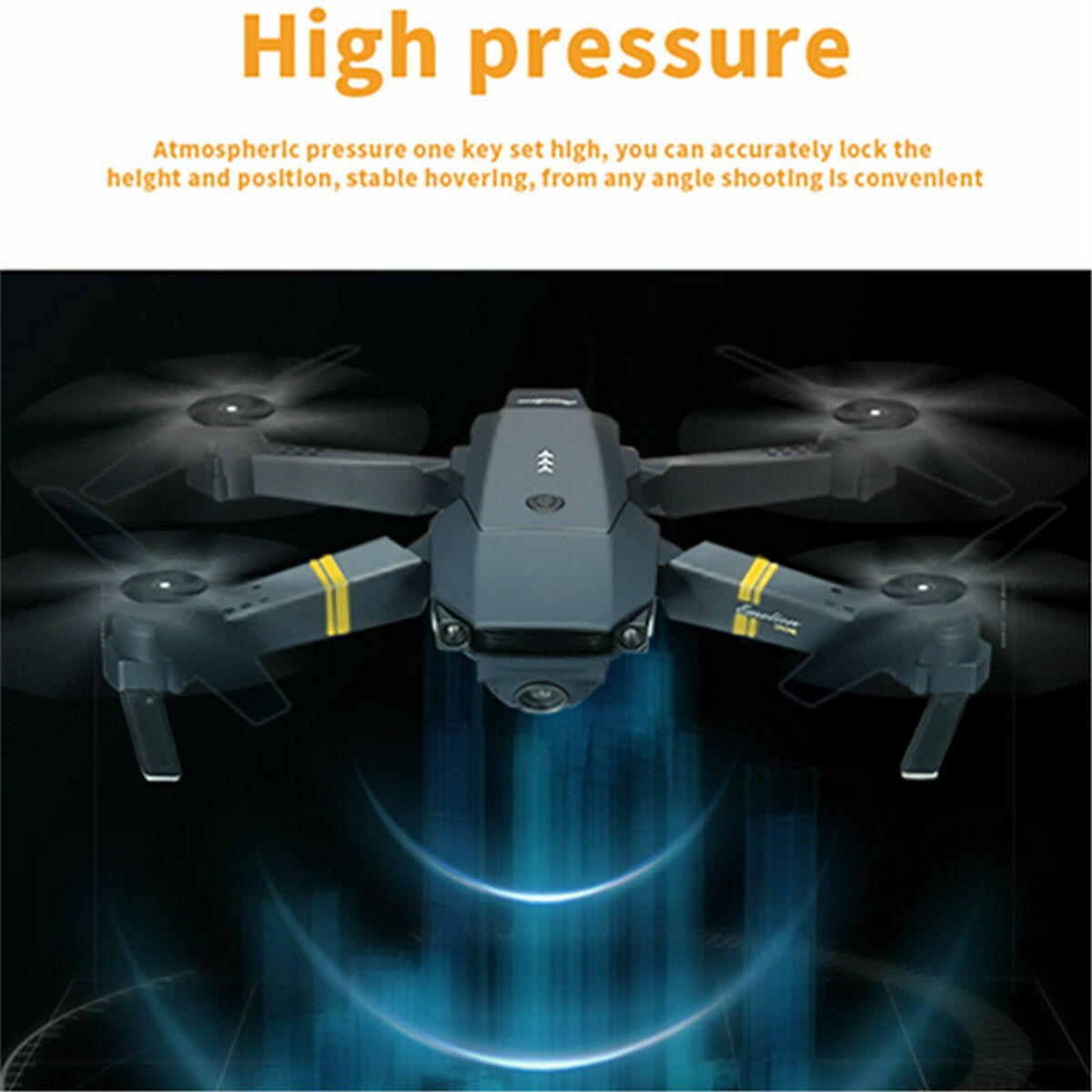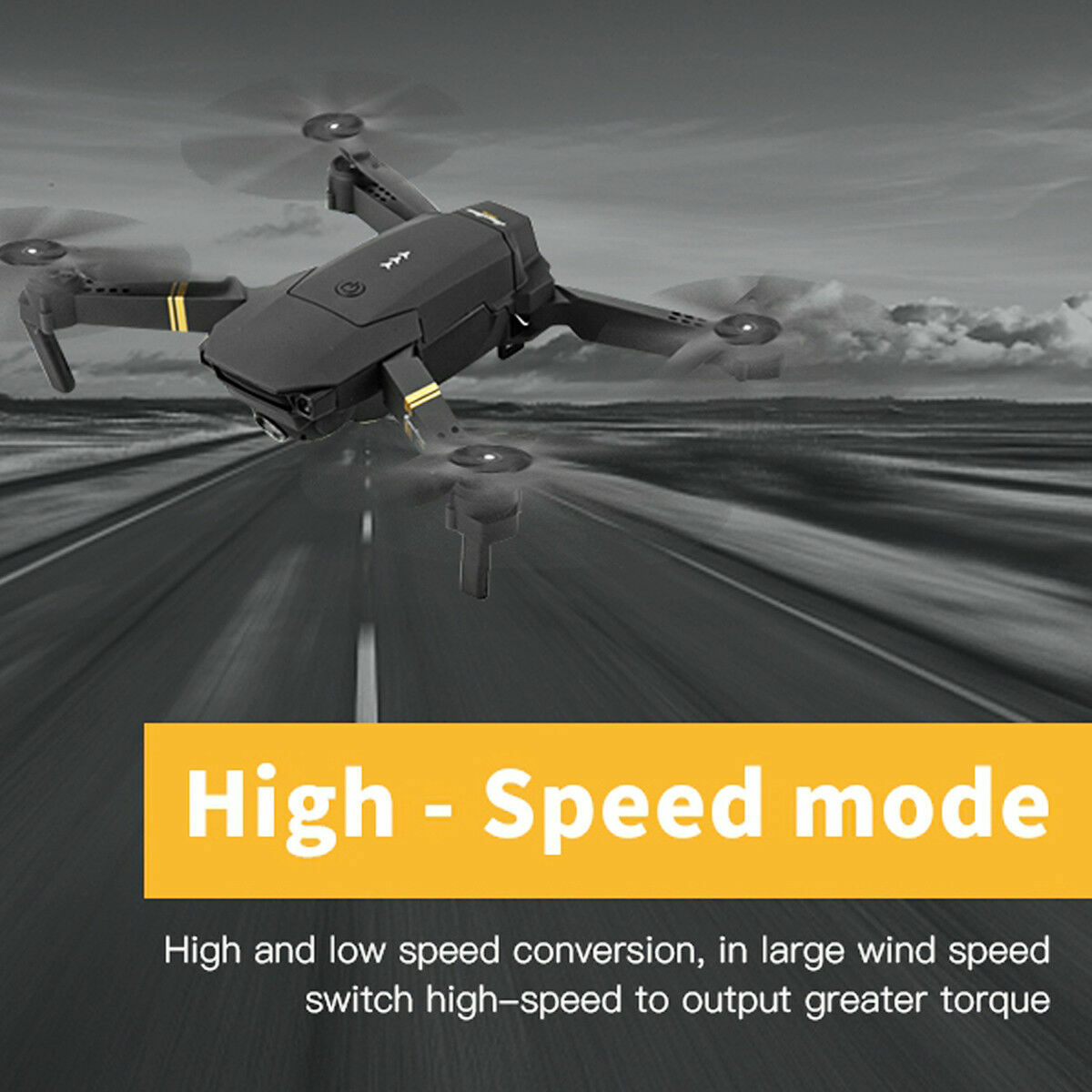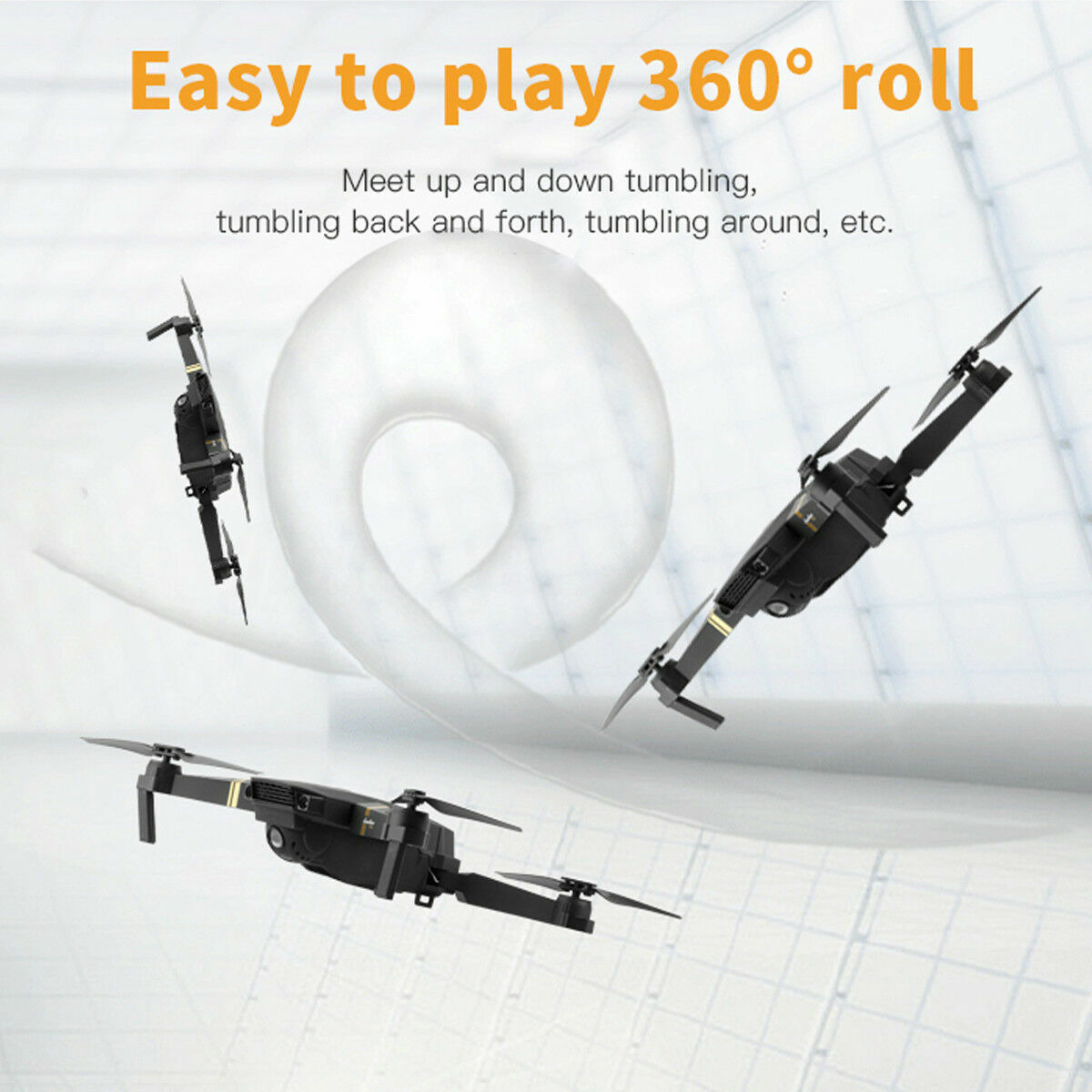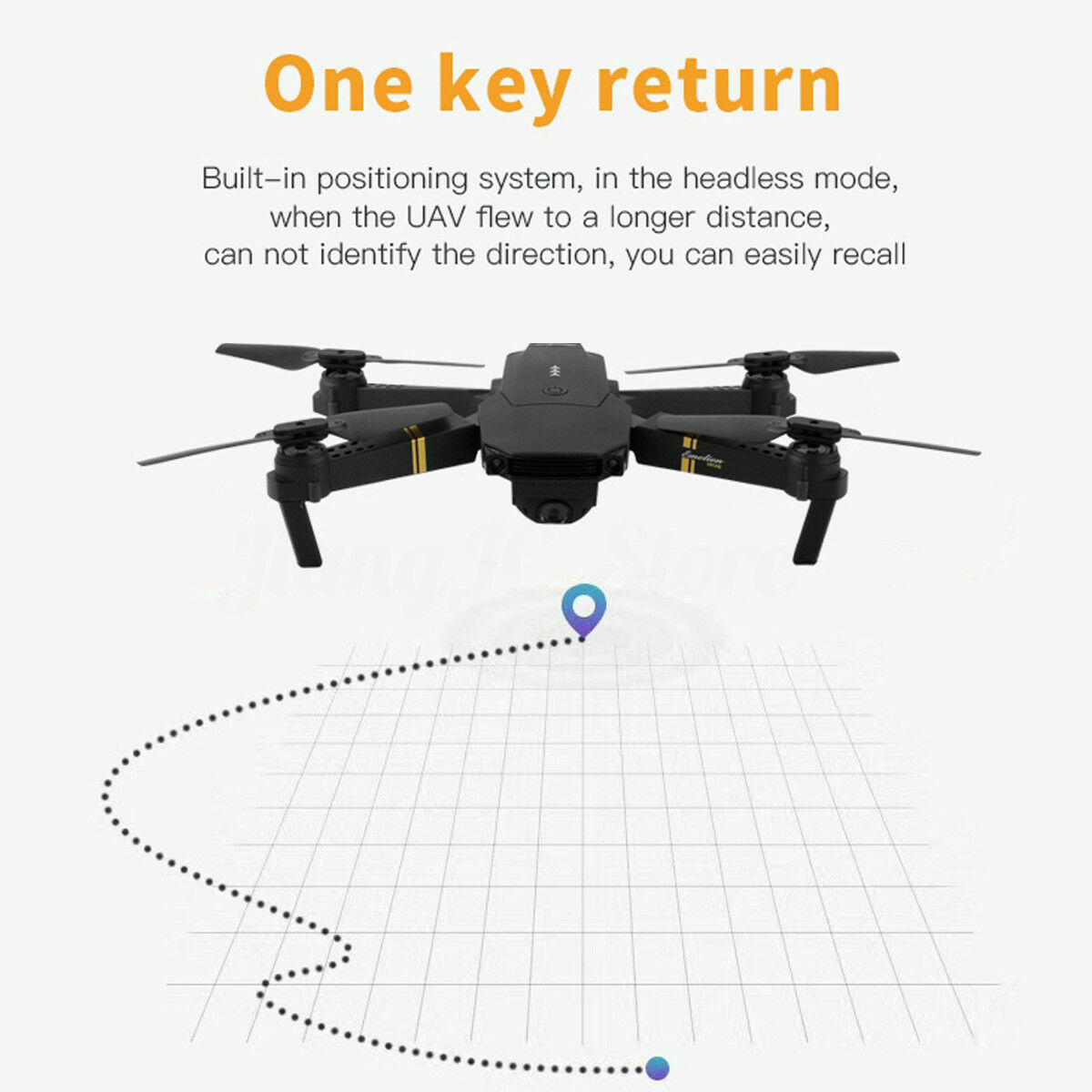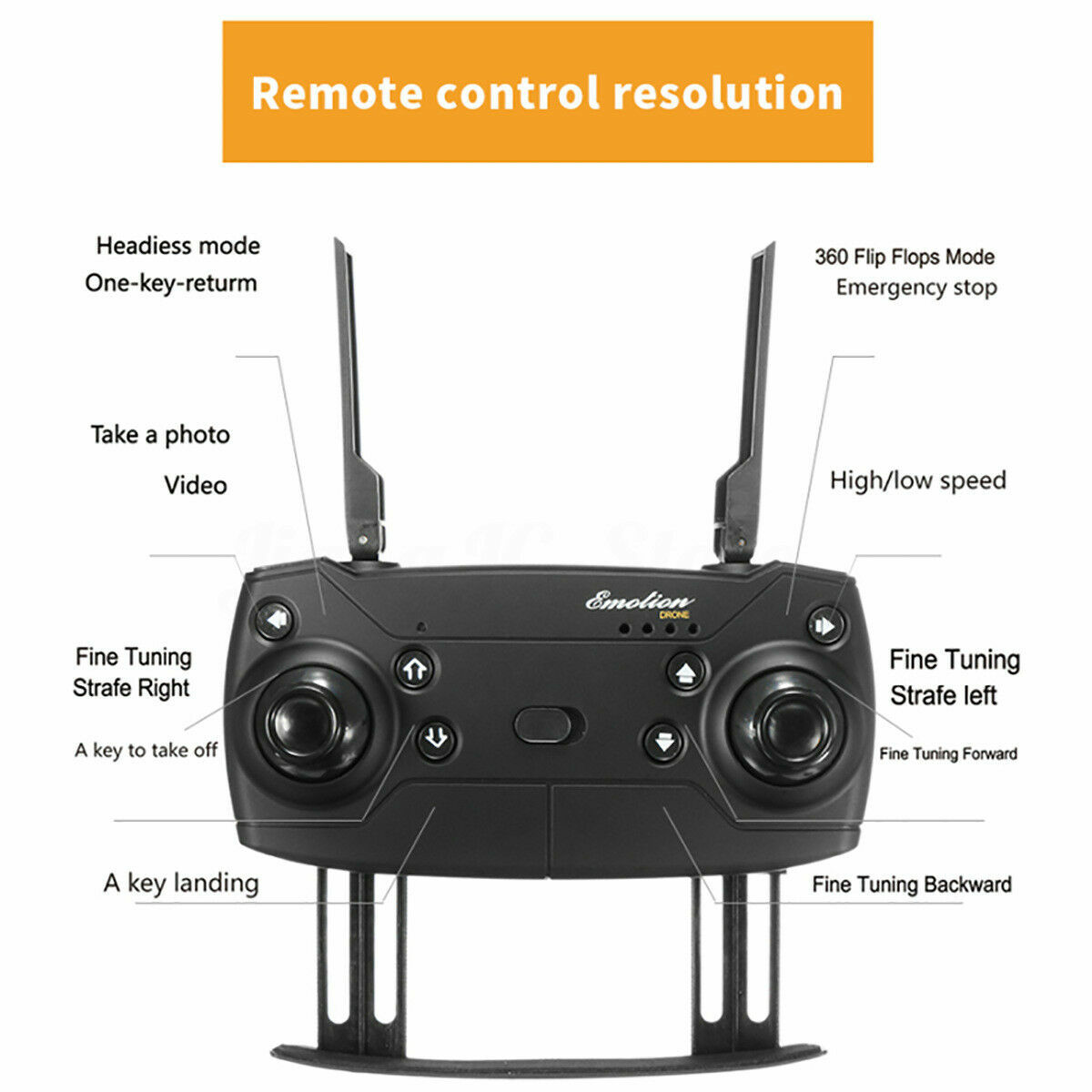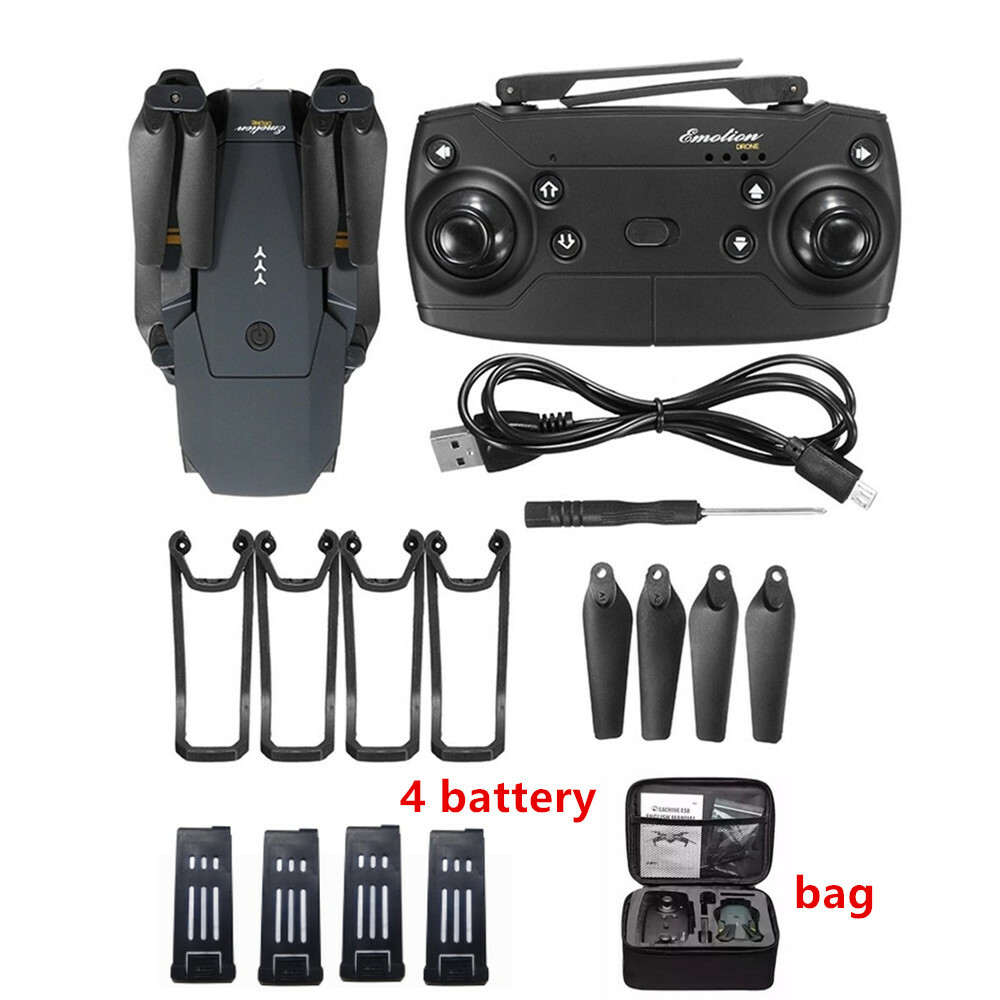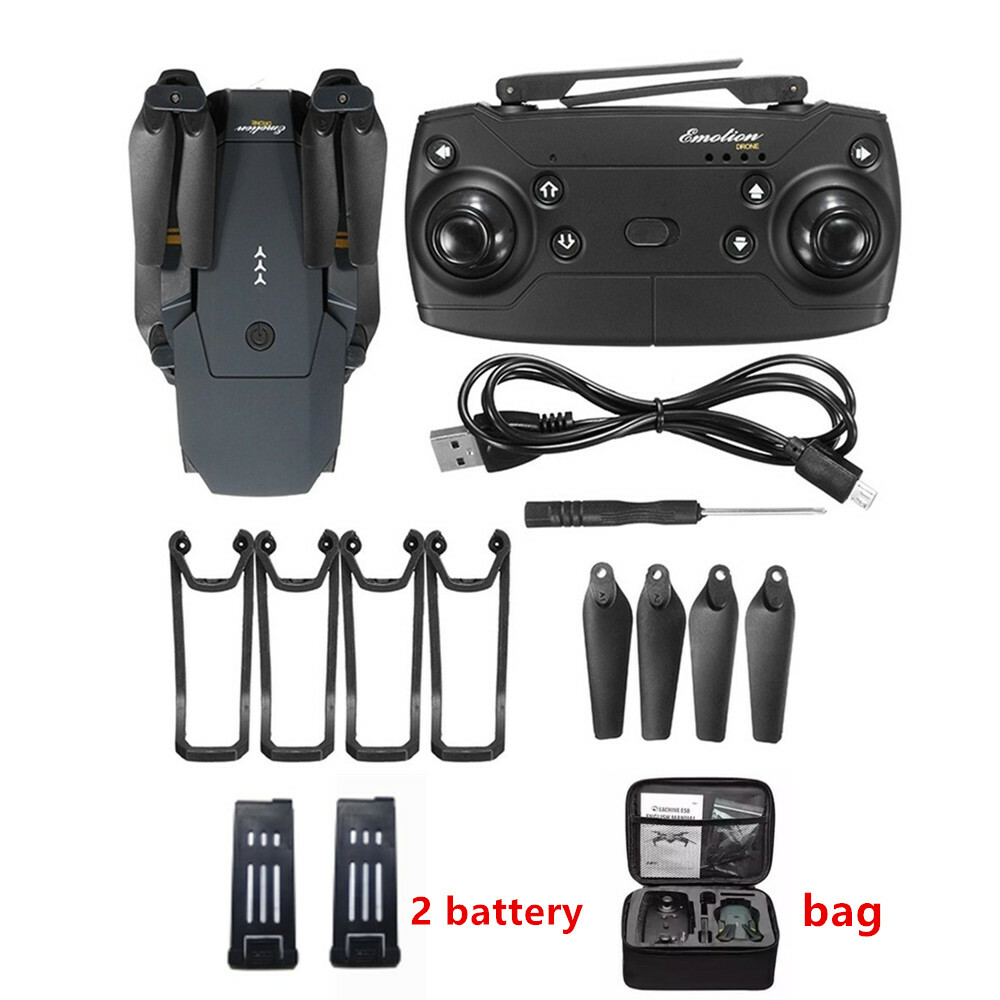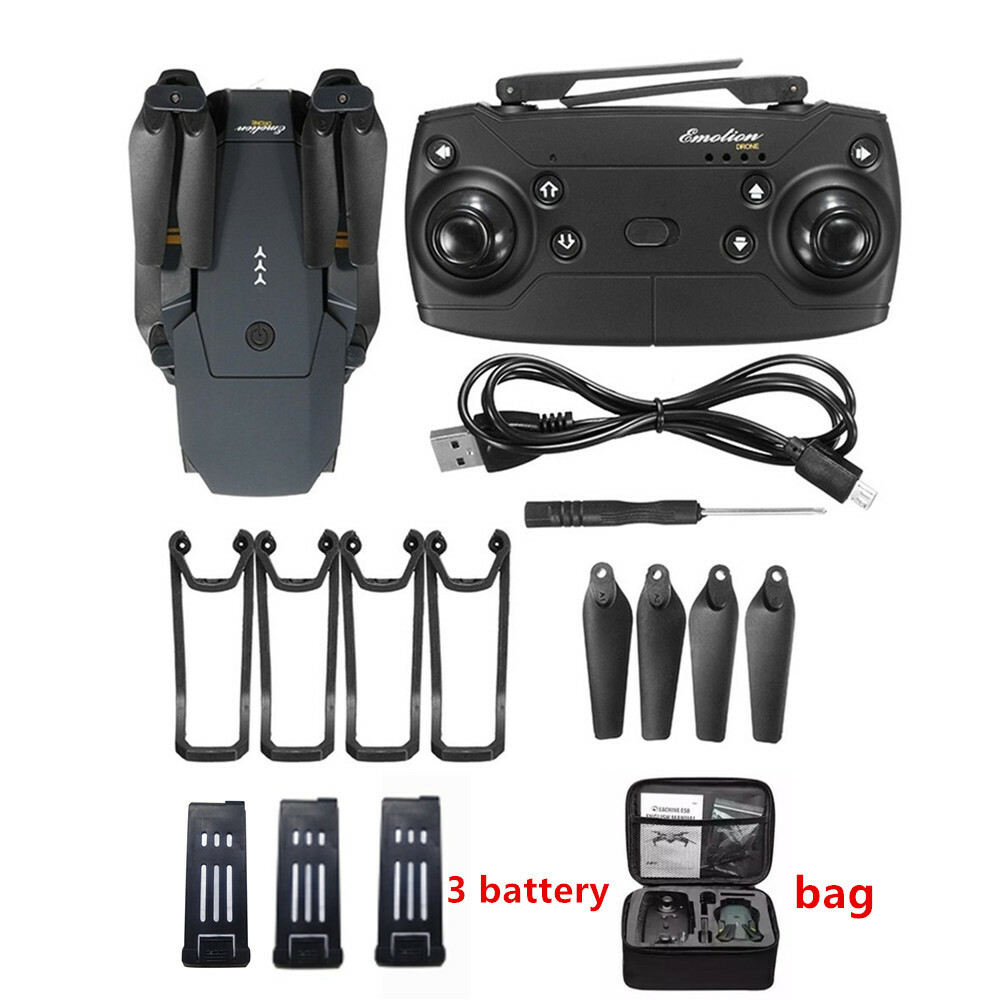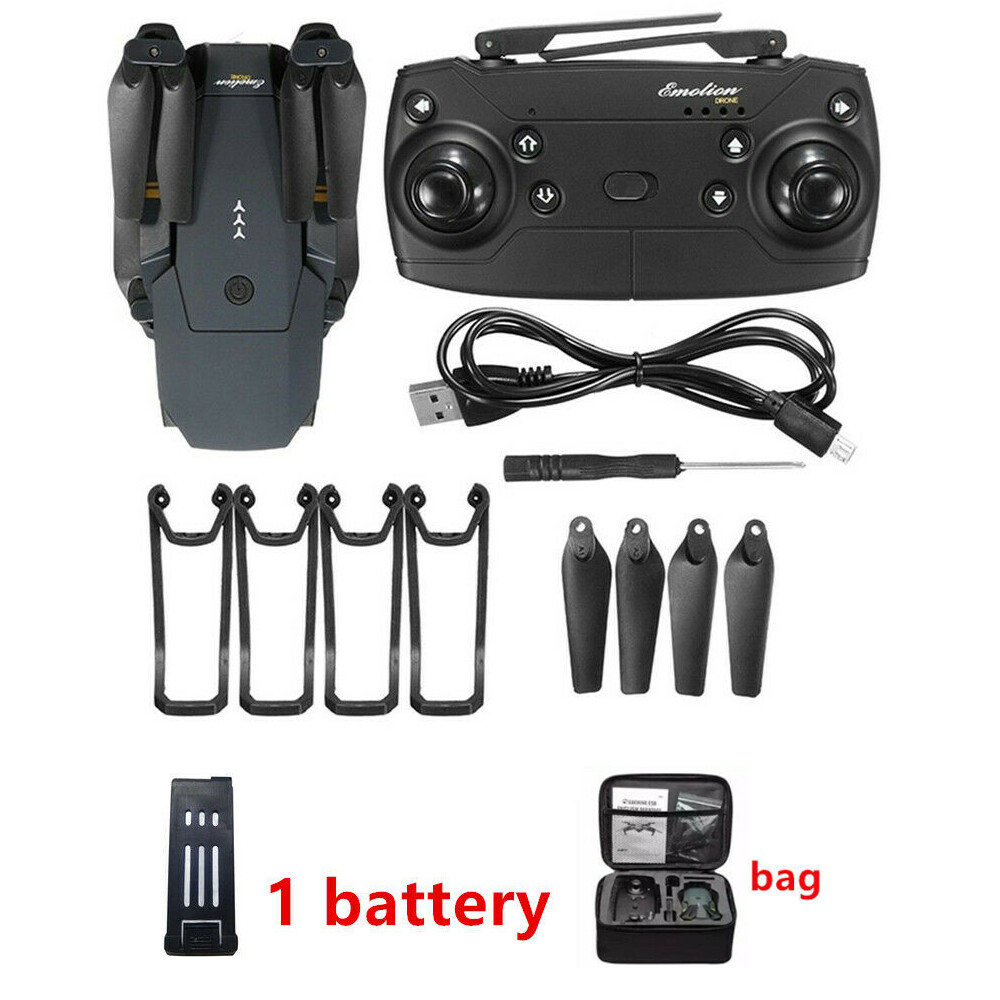 Item Specifics
| | |
| --- | --- |
| MPN | Does Not Apply |
| Brand | Unbranded |
| Required Assembly | Ready to Go/RTR/RTF (All included) |
| Model Grade | Toy Grade |
| Model | DJ-1 |
| Material | ABS, carbon fiber, metal |
| Motor | Brush motor |
| Frequency | 2.4GHz |
| Camera | 2.0MP |
| Flight time | 7-8 min |
| Charging time | about 30-45 min |
| Remote distance | about 100 m |
| Speed | 30km/h |
| Applicable age | 14 years old + |
Payment
We accept

PayPal payment only

, and must be received within 3 days from the date of purchase.

Please leave note in PayPal when making the payment if you have any special requests.

Orders will be processed instantly and dispatched within 1-2 days, so we do NOT accept any email/message note after you place orders.

IMPORTANT! PLEASE READ! Buyers are responsible for import duties, custom fees and taxes, if any. Please check with your countrys custom office to determine the additional costs impose on the item prior to buying.
Shipping
We offer

within the United States (U.S.) only

Orders will be processed and dispatched within 24-48 hours after payment is clear.

In general, it may take about

7-15 business days

for delivery.

We only ship to confirmed eBay addresses. Your eBay address MUST MATCH your Shipping address.

If you have not received your shipment within 30 business days from payment, please contact us. We will track the shipment and get back to you as soon as possible. Our goal is customer satisfaction!

Please note that estimated delivery time is depended on destination countries, and may subject to customs clearance process, and weather condition in your area.
Returns
We offer

30

days return

policy. Please contact us within 30 days t from the date you receive your order if you have any issues with the product and would like to return.

All returned items MUST BE in the original packaging and you MUST PROVIDE us with the shipping tracking number, specific reason for the return, and your eBay ID.

We will refund

YOUR FULL WINNING BID AMOUNT

, upon receipt of the item in its original condition and packaging with all components and accessories included, AFTER BOTH Buyer and Seller cancel the transaction from eBay. OR, you may choose to have a replacement.

Buyer is responsible for return shipping cost.
Contact Us& Feedback
1. If you are satisfied with our products and service, please leave us Positive Feedback and 5 Star Ratings, and we will do the same for you.
2. Please feel free to contact us if you have any question.
We'll do reply you as soon as possible and try our best to solve your problems out. Believe us,every customer is taken as our important treasure. And please contact us by the following instructions, your cooperation would be much appreciated,
and the warranty period can be extended automatically
, please note.
Q1: What can I do if I haven't received my item in time?
A1:
Please find the order record, select "Contact seller" in drop-down menu at right hand side, which lead to a new page and "Select a topic" as follows, then we will receive your email and respond within 24 hours.

Q2: How can we process if I'm not satisfied with your product?
A2:
Please click " Return this item" bottom, find the following 3 options, and select one among them to continue should be okay. PS: The return reasons are not important, as no matter which one you select, we need to further confirm the details through message.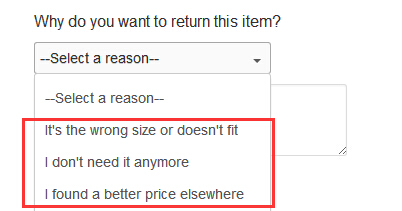 Welcome to our store! Your Satisfaction is our Highest Priority. Please feel free to contact us if you have any questions about our products or service. Thank you!
Our Working time (Monday to Friday):
All emails would be replied very fast during our working time, emails would be replied within 24 hours usually during holiday.
Welcome to contact us if you have any problem.